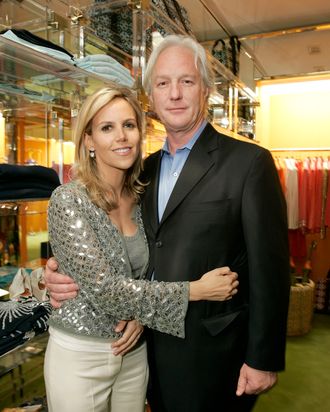 Tory and Chris Burch, pre-divorce in 2005.
Photo: Chris Weeks
When Chris and Tory Burch got divorced in 2006, their arrangement seemed more than a bit awkward. As a major investor in Tory Burch's eponymous company, Chris stayed co-chairman of the board. Things apparently got weirder still when Chris started his own retail venture, preppy boutique C. Wonder, which shared a lot of the same aesthetics as the Tory Burch label — splashy monograms, bright enameled jewelry, and a wide assortment of colorful ballet flats — and rumors circulated in December that he was looking to sell his stake in Tory's company for $600 million. Today, the Post reports that Tory is threatening legal action against Chris for copying her business plan.
According to the Post's unnamed source:
She is furious and claims he has directly copied her business plan… They are negotiating through lawyers. While Chris set up Tory Burch, his new stuff is identical and a third of the price. She wants him off the board of her company and for C. Wonder to close.
No one at either Burch's camps have confirmed any of this, so the rumor should be taken with a grain of salt, particularly since no litigation processes have begun. (And because we all know how much the Post loves any excuse to print phrases like "the famously calm ice queen has lost her cool.")
Related: Tory Burch Reportedly Selling Chris Burch's Stake in the Company