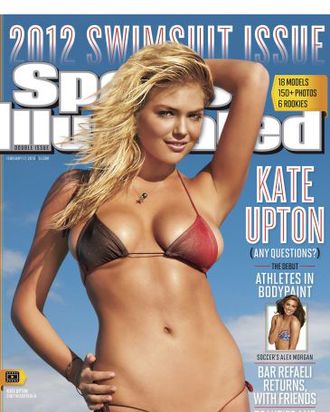 It's that time of year when the Sports Illustrated swimsuit issue arrives at households across America, only to be plopped down on the kitchen counter and sit awkwardly for hours or even days because no one wants to be seen taking it up to his (or her?) room. It'll finally be snatched up when no one is looking, only to resurface months later, wrinkly and more icky-looking than ever, when an unsuspecting person is recycling the stack of magazines that sits on top of the toilet tank or vacuuming under the bed. Anyway, this year's Sports Illustrated cover girl is Kate Upton, who also models for another frequently squirreled-away piece of mail: the Victoria's Secret catalog. She actually got to wear a lot more in her Victoria's Secret shoot — panties and a push-up bra — than she does for Sports Illustrated, for which she appears to be clad in re-purposed eye patches. (Really, why did they even bother with the bottoms?)
This is a big moment for Kate Upton, whose popularity has been previously hailed as a backlash against her skinnier lingerie model counterparts. However, just because pictures of her will now be taped up in locker rooms across America doesn't necessarily bode well for her Victoria's Secret career. When asked if Upton's rocketing popularity could land her a coveted spot on the Victoria's Secret runway next year, Sophia Neophitou, who casts the shows, said absolutely not (and not very nicely, either). The Times reports:
"We would never use" Ms. Upton for a Victoria's Secret show, Ms. Neophitou said by telephone last week from London. And, while Ms. Upton has, in fact, modeled on occasion for the company's catalog, her look, said Ms. Neophitou, is "too obvious" to be featured in what has become the most widely viewed runway show in the world.

"She's like a Page 3 girl," Ms. Neophitou said, referring to the scantily clad voluptuous women featured in The Sun, a London tabloid. "She's like a footballer's wife, with the too-blond hair and that kind of face that anyone with enough money can go out and buy."
So in other words, Neophitou is calling Upton the trashy kind of sexy, not the "classy" kind of sexy that the Victoria's Secret Fashion Show supposedly "promotes." Which is too bad, because their show would benefit from the inclusion of some curvier women. But then again, maybe Upton's the winner here, because she'll get to stay her normal size instead of spending the autumn months exercising twice a day and subsisting on green juice.