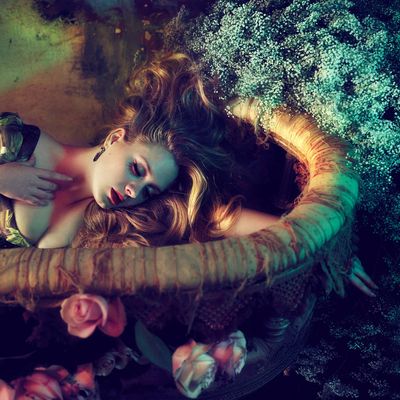 A shot from Adele's Vogue spread, photographed by Mert Alas and Marcus Piggott.
Photo: Mert Alas and Marcus Piggott for Vogue
It seems utterly silly to discuss Adele's weight, particularly in the wake of her sweeping win at last night's Grammy awards. And her Vogue profile, out today, does a good job of ignoring the topic entirely, instead focusing on a much more important — and also widely discussed — part of Adele's anatomy: her vocal cords. This is a refreshing departure from Karl Lagerfeld's ridiculous comments about Adele being fat, but at the same time, it's a notable omission on Vogue's part. After all, Vogue is a fashion magazine, and their cover subjects' bodies are always discussed, often at great length, in their cover stories.
For example, here are excerpts from their past four cover stories:
On Taylor Swift: "The fact that Swift is supermodel thin, towers over everyone (at five feet ten she clocks in at well over six feet in platform Miu Mius), and has skin as pale as a gold-rush bride's — well, let's just say she falls somewhere on the continuum from fetching to dazzling."
On Meryl Streep: "She is slight and delicate, maybe more than I expected … Streep on my screen is sturdy, giant, and galumphing; homely, fine-boned, and aristocratic; earthy and sensual; couture-skinny; heart-of-glass delicate … "
On Charlize Theron: "She rises from her restaurant chair in her light-brown sweater and Rag & Bone jeans and reveals what her producing partner, Beth Kono, describes as a 'freaking five-foot-ten genetic mutation'…"
On Rooney Mara: "She orders a piece of fish and barely touches it … I ask if she had to get unhealthily skinny for the role. She says, 'Umm … not really.'"
Vogue's decision to ignore Adele's body entirely is thus an interesting one. Perhaps editors and the article's writer, Jonathan Van Meter, felt that the topic had been discussed enough already (goodness knows it has been). Meanwhile, her facial beauty gets its moment in the spotlight: Van Meter writes that "her beautiful face — with its full lips, flawless pale skin, and lush false eyelashes — surrounded by her leonine mane of thick, wavy, blonde-streaked hair, is … A face for the movies if ever there was one." But why could Vogue not say equally reverent things about her figure? Or is the magazine right to ignore her physical appearance — below the neck, that is — entirely, for once?
Related:
See Adele's New Vogue Cover
Karl Lagerfeld Isn't the Only One Who Doesn't Know How to Divorce Adele From Her Weight
Karl Lagerfeld Tries to Rectify His Comment About Adele Being Fat