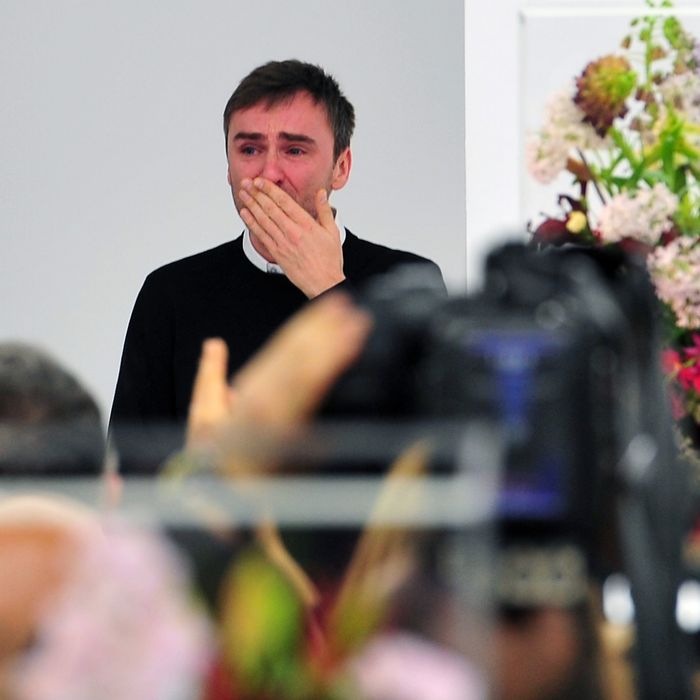 Raf Simons took a tearful bow at his last Jil Sander show on Saturday.
Photo: GIUSEPPE CACACE/AFP/Getty Images
Raf Simons made a surprise appearance at the Versus show on Sunday night, where he told reporters, "I am leaving Milan tomorrow, forever." Forever! That sounds extreme, but who knows. In today's WWD, Bridget Foley writes that Simons was let go from Jil Sander, or in her words, "unceremoniously dumped." She names no sources and expresses indignation and disbelief that Jil Sander Group would do such a thing. However, this is the first real "news" — if you can call it that — we've heard of Simons's dismissal. Up until now, the general assumption is that he chose to leave, probably to take over at Dior or YSL, or even just to add womenswear to his own eponymous line. Yes, it's wonderful that Jil Sander is back at her own brand, but would the company really dump a talented industry darling like Simons just because Sander felt like returning? 
Cathy Horyn reported yesterday that Jil Sander Group's parent company, Onward Holdings, hadn't wanted to change designers. But of course, they can't look like they're too upset about it because that would look bad for Simons's replacement, Sander herself. Writes Horyn:
Franco Pene, the chairman of Gibo, an Italian subsidiary of Onward Holdings, which owns Jil Sander, said of the decision: "It's not that we wanted to change designers. Raf has done a really good job. He's one of three or four top designers in the world." He mentioned Phoebe Philo of Céline and Alber Elbaz of Lanvin. But, Mr. Pene said, "it was a strategic issue to return to the culture of the brand" under its founder, Ms. Sander, and gain "consistency."
Meanwhile, everyone admits that Simons's designs weren't making much money. But that's because the fashion house failed to provide sufficient infrastructure for cash cows like shoes and bags, not because of Simons's shortcomings as a designer. Foley complains, "At Christmas, I bought a glorious Sander runway bag, only to discover that day that the handle leather had split. A production issue; not a design issue." In other words, wherever Simons goes next — even if it's just to dig in at his own label — he'll probably be better off there.
Related:
Jil Sander Is Pumped to Be Back
Raf Simons at Jil Sander: A Retrospective
Jil Sander Confirms Jil Sander's Return
Confirmed: Raf Simons to Leave Jil Sander