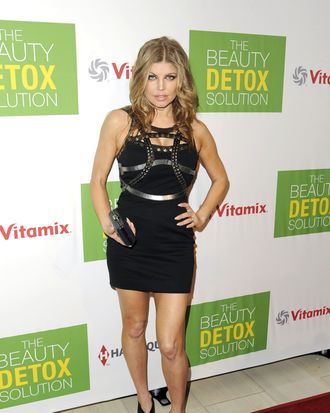 Fergie.
Photo: ANDREAS BRANCH/patrickmcmullan.com
Wet 'n' Wild, a cosmetics company that's surely suffering in the digital age from the un-Googleability of its name (don't try it for yourself unless you are 1) alone, and 2) actually looking for, um, a water theme park), has finally thrown in the towel and hired their very first celebrity spokesperson. Which is the end of an era, really — amid all the constant face changeover in drugstore cosmetics aisles (Kate Hudson! Christy Turlington! Jessica White!), that pink-lipped, scrunchie-wearing Wet 'n' Wild girl always remained a comforting standby. Now she'll be replaced by Fergie, who says she signed on with the brand because it was popular in Hacienda Heights, the L.A. neighborhood where she grew up:
In Hacienda Heights, there were a lot of beautiful chola girls. They wore Wet 'n' Wild. I would watch them put on their eyeliners and lip liners at school. The big thing for the eyeliners was to heat them up and put on the black eyeliners smooth. They would also line their lips with dark lip liner … Their faces were like palettes. I would try to emulate them.
For better or for worse, now she has succeeded.