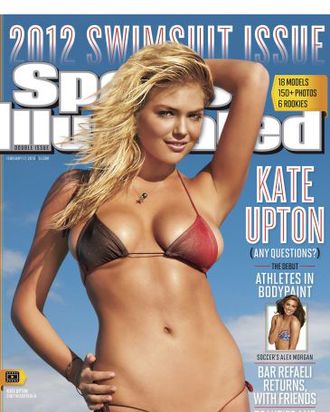 The Sports Illustrated swimsuit issue feels like a relic of a time … well, before porn on the Internet. The semi-naked models, privates always concealed, being sexy on a beach in a formulaic way are an old standby, as far as things involving hot, nearly naked girls go. And this year's issue has earned the approval of plenty of men, like Gabe Zaldivar of thebleacherreport.com, who declared it "the greatest of all time" for three reasons, the first being:
1. Kate Upton

Let's get this out of the way right off the bat. This is like LeBron James coming into the NBA, or Jeremy Lin suiting up at Madison Square Garden. 

The 2011 SI Rookie of the Year finally gets her spread and she looks amazing. When you consider that she is only 19, thoughts of her gracing the cover a few times like Elle Macpherson or Christie Brinkley cross my mind. 

She has already stepped foot in the land of movies with Tower Heist and Three Stooges. We may be looking at the first superstar that we have had in a while on this cover.
Okaaay. So men think she's a superstar in addition to being super hot. But one-third of the issue's 70 million readers (actually viewers may be a more accurate word) are women. So what's the appeal for us? If you look closely at the issue, you may find that actually it's a pretty girly thing for these reasons.
1. It professes to have something to say about bathing-suit fashion. Which it doesn't, if you think of fashion in the serious Vogue kind of way, but might if you think of fashion in the Middle America mass kind of way. And even if you "get" fashion in the Vogue sense, looking at the SI swimsuit issue is amusing because you can scoff at how chintzy the "bathing suits" are. Scoffing at bad outfits is a pretty girly pastime.
2. Cute animals!!! In clicking through the content online, you'll notice a lot of the models posed with adorable animals. Kate Upton got to cuddle a koala, Genevieve Morton got to play with lions, Ariel Meredith got shot with an adorable parakeet on her shoulder, Alyssa Miller got to hang out with a tortoise named George and feed him bananas, and others still frolicked with zebras and giraffes — the list goes on. So, given that these models got to do that and are beautiful and don't look like they'd need to have their cellulite Photoshopped out of any pictures, don't you just hate them? 
3. Other women's bodies. Women love looking at other women's bodies, and not even in a sexual way. We love talking about who looks hungry, who looks bloated, who's had plastic surgery, who ate what and who didn't eat what at a cocktail party. The swim issue is, if you can ignore its exploitative nature, refreshing to nonsexually ogle because the models don't look bony or scarily thin, the way too many fashion magazine models do. After Fashion Week, it's nice to remember that flesh and boobs can be celebrated too.