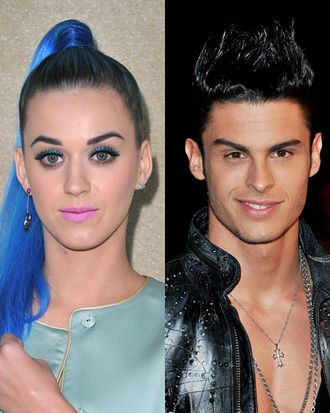 Katy Perry and Baptiste Giabiconi. Please be(come) the real deal!
Photo: Getty Images
Thanks to a recent post on gossip blog Celebzter, "Page Six" reports that Katy Perry and male model Baptiste Giabiconi are dating. Fate masquerading as a savvy PR assistant placed them next to each other at this season's Chanel show, where they presumably found enough time away from staring at the pretty clothes (and their own reflections in the set's reflective crystal stalagmites) to fall truly, madly, deeply in love. They held hands at a post-show dinner, and Baptiste reportedly bought her some flowers — though you'd think as a longtime Chanel muse that he could have sprung for some shoes or something. They were all ready for a "romantic date" too, presumably chaperoned by Karl himself, but then the Place Vendôme caught on fire. What bad luck!
Setting aside any long-time crushes on Baptiste, this is brilliant news. Let's all hope they'll be making fashionable fireworks together — and by that we mean, of course, lots of beautiful music. A well-harmonized mash-up of "Last Friday Night" and "One Night in Paradise" would be just about the pinnacle of Europop perfection.