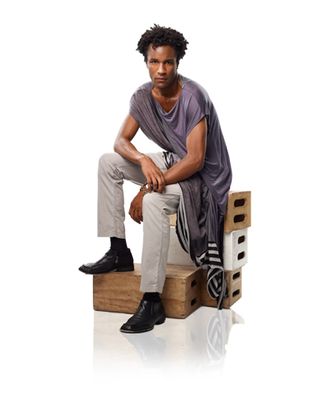 Jerell Scott.
Photo: Lifetime
After last night's glow-in-the-dark spectacular, Project Runway's judges cut the All-Star field from five to four. Missing out on a semifinalist's spot was Jerell Scott, whose "techno-tribal" look didn't resonate with the panel. We spoke with Jerell this afternoon about his time on the show, his razor-sharp wit, and just why he finds Tim Gunn's pants a little problematic.
You had a great run this season. Were you expecting to make it far?
I'm definitely confident in my ability and in what I do. But going into this I knew the caliber of designers I would be competing against. During my original season, I think there were maybe three or four people who just weren't quite up to the demands of the format, you know? Some people couldn't work within the time restraints; some people couldn't deal with the cameras. Us All-Stars had all been tried and tested, so I knew it would be tougher. But I wanted my damn novelty-size check.
Was there anyone you were hoping to see in the cast in particular? Or anyone whose inclusion was a surprise?
Let's see. I was hoping to see Rami there because I have so much respect for him; I think he is phenomenal. Otherwise, I guess I was a little shocked to see Elisa. I mean, if you look at the rest of the cast, everyone ranked fifth or better [in their respective seasons] and I didn't even remember her. But in the workroom, she was crazy. I'm like, "Okay, I see why she's here." She had a hibachi and an African harp and all sorts of shit, and I'm like, "Okay, girl, do it to it."
And she did — she sure brought her aesthetic to the table.
Actually, it was under the table, but it was there.
You were definitely one of the bigger characters this season. All that sass comes naturally?
I'm not even playing, I'm "what you see is what you get." I am so carefree, fun-loving; I say whatever the fuck I want to say. I could be at the dinner table with my mom and Jesus: I'm going to keep it real. That's who I am. Life is so much easier and more enjoyable when you don't try to put on some face for people. I guess [the show] is serious, since this is our profession, but I'm not running for office, you know? And I think when you focus too hard on how you're coming across, it just reads as fake.
Do you forget that the cameras are there?
For me, the cameras are just background. Those are people I can't talk to, and that's that. You have such a small time to create something. [The producers] have it figured out to the barest minimum amount of time that a fairly talented person can pull off something passable for these challenges. There's really no time to be, "Oh my God, how do my cheekbones look?" No, no, no. I've got to sew this shit up.
How did you feel about the new panel of judges: Georgina, Isaac, and Angela?
I have to say, I absolutely loved them. Loved them. The change felt right. I have respect for the original judges, but for me, Georgina Chapman is [much more similar] to my aesthetic. I have more respect for what she does compared to, say, what Michael Kors does. So I felt like it was someone judging me that understood more about my vision; not to mention she's a hell of a lot cuter than Michael. And I like to believe that I am a pretty likable guy, but Nina Garcia? She just looked at me like I was a shit taco from the beginning [of season five]. I was like, "Okay, girl, should I get you some carnations? Baby's breath? What's gonna get you happy, girl?"
I honestly also think there maybe comes a time after nine or ten seasons that judges start to get a little jaded. And that's what I'm smelling coming from the original batch. This new group, they're excited. They wanted to be there.
How about Joanna Coles? Was she a good mentor?
I love Joanna, love her. Tim is amazing — you get the feeling from him that he really cares, that he's not just doing it for the money. It's not just a TV show for him. When you have his attention, he cares. He was amazing. However, we would all joke about the Tim Gunn curse, because if he's skipping around talking about how good your look is, well, you might want to go back and rework it — because what Tim liked and what the judges liked rarely seemed to mesh. It was amazing to have a woman's perspective from Joanna. Also, she dresses better than Tim. I'm just going to throw it out there.
That could prove controversial.
His suits don't fit that good. I'm just gonna say it! Joanna's pants always hit the floor just right, okay? I'm sorry.
A lot of the challenges this season seemed to come with quite vague parameters. Was that ever a problem in terms of feedback from Joanna, or with critiques from the judges?
Yes. I think for us designers early on, we would listen to the challenge and then meet, asking each other, "What did you get from that?" For the flag challenge, we all walked away with the understanding that we had to incorporate every single color from that flag into the outfit. So that's why Austin made that chewed-up nightmare — he thought that he had to do all that colorful shit. Then we get on the runway, the judges said, "Oh no, it just had to be inspired." That's really not what we got. We thought if the turquoise or whatever wasn't in there, it'd be chopping-block time.
Did this make eliminations more surprising?
Sometimes; quite often actually. The most upsetting elimination for me was Rami's. I did not understand it. His jacket was fantastic. That bubbly-ass capelet Mila made was gah-bage, and I don't understand how her look beat his. You didn't see it on the show, but Isaac got out of his seat, walked over to her look, and said, "Why's your cape so bubbly?" Rami's jacket was beautifully draped. That top underneath was unfortunate, yes, but that jacket should have saved him.
For me, as a viewer, it was the first auf'ing I didn't see coming.
I wasn't ready for it either. I was like, "REALLY?!" I think there are very talented people on this season. To me, Rami was certainly one of the most talented. I think all of us assumed he was going to be in the final three … and Rami's my homegirl —  love him. We're going out tonight, actually.
Were there any designers you got along with particularly well?
I really did love most of the other contestants. Gordana is an amazing person; I love Mondo [and his] aesthetic; I think he is fabulous. He mixes things in a very smart and interesting way. I know Michael personally, and he makes clothes that women really wear. Sometimes it's not the most original stuff, but you can fill a rack in Target right now and it's gonna sell out. And Austin, I love him too. Despite some of his comments about me this season, he's a very genuine person. Sometimes it's a little "Golden Girls going to the Golden Globes," but he's a real guy and he's very interesting. And if you haven't seen his music video, I suggest you go check it out. I don't know if he knows he's tone deaf, but he is tone deaf.
Austin Scarlett can only do Austin Scarlett.
I'd like to know who's buying his clothes. I love him and all that, but I'm like, are there that many tea parties?
So now that All-Stars is winding down, what else are you working on?
When I was originally on the show, pretty much all the clothes I was doing at that point were from my Jerell Scott Collection line, at $1,700 to $10,000. That line supported me and it was fabulous, but fans of the show can't necessarily afford those things, and I felt I didn't have product that was relatable. Coming off of All-Stars, I've launched a line called Haute Catastrophe: Jerell Scott for Everyday Consumption. It's pieces at much lower price point — but still embodying who I am as a designer. It's some really wearable, cool stuff. And I have some other deals in the pipeline, but I really can't drop names yet. I need to get me some contracts signed, but by the end of the year we should be seeing some fabulous pieces from me available in a much broader scale.
That sounds promising for sure. I hope it all works out.
Me too! I enjoy long walks to the liquor store and short walks to the bank.