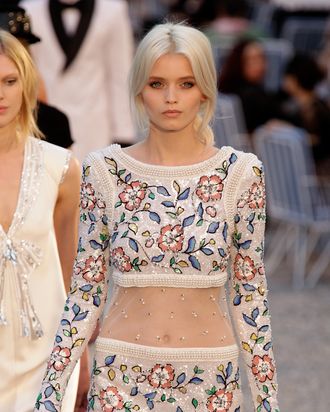 Abbey Lee Kershaw in Chanel.
Photo: Kristy Sparow/Getty Images
There's been some speculation about model Abbey Lee Kershaw's whereabouts this month, as she hasn't walked in any fashion shows since New York. We do know one thing for sure: Last weekend, she was at Green Fitness Studio in Bushwick, singing loudly with her headphones on. According to a fellow gym-goer (a New York staffer, who shall remain anonymous), Kershaw then mounted an elliptical machine and continued singing tonelessly as she worked out, occasionally bobbing her head and flailing her arms as well. "I didn't say anything at first — you do what you have to do at the gym — but it was getting really loud," explains our source. "I gave her some dirty looks to see if she'd stop, but I think she saw me staring and just sang louder. It was like a moaning sound, almost." Well, you've got to give her at least some credit for combining band practice and cardio.
Related: Where Is Abbey Lee Kershaw?