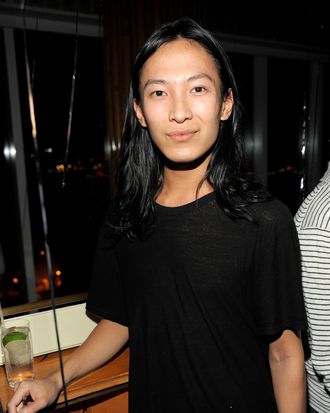 Alexander Wang.
Photo: Clint Spaulding/? Patrick McMullan
It's no surprise that Alexander Wang's camp vehemently denies recent allegations that the company violated labor laws at a so-called "sweatshop" in Chinatown. According to a lawsuit filed by former employee Wenyu Lu in Queens, Wang's employees were forced to work up to 25-hour-long days without breaks or overtime pay. The plaintiffs include Lu and roughly 30 other employees, who are demanding $50 million in damages for each of the suit's nine charges. Although Wang's representatives say they have yet to be served with the lawsuit, they're already defending the company.
A spokesperson for the brand told WWD today:
The company takes its obligations to comply with the law very seriously, including the relevant wage and hour regulations, the payment of overtime to eligible employees and having a safe working environment for all of our employees. We will vehemently defend any allegations to the contrary.
The plaintiffs' lawyer, Ming Hai, has a history with employment law cases  in Chinatown and tells WWD that most apparel companies settle out of court to avoid bad press. It would hardly be a shock if Wang does the same.
Related: Alexander Wang Sued for Running Alleged 'Sweatshop' in Chinatown