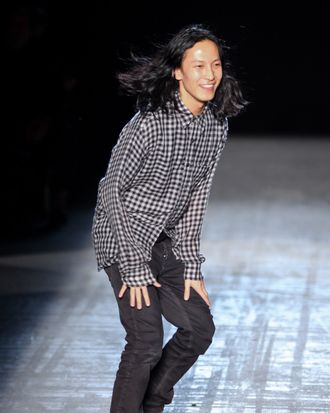 Alexander Wang.
Photo: Thomas Concordia/2011 Thomas Concordia
Sweatshop allegations against Alexander Wang were refiled in the New York Federal Court on Friday by a new law firm, Kraselnik & Lee, following an awkward handoff from the original lawyer last week. (The initial charges, filed at the Queens County Supreme Court a few weeks ago, were dropped so that the suit could be bumped up to the federal level.) The two named plaintiffs, former Wang employees Wenyu Lu and Flor Duante, remain the same; Lu has said that about 30 other co-workers stand with him on the allegations, but none of them want to be named yet because they're afraid of getting fired.
Unsurprisingly, Alexander Wang and his lawyer have denied all the accusations concerning his so-called "sweatshop" at 386 Broadway in Chinatown, insisting that the company provides a safe, spacious, well-ventilated — indeed, luxurious — work environment for its employees. Now a Wang spokesperson claims that Lu was fired for bullying his co-workers, according to WWD:
The claims regarding sweatshop conditions are completely untrue… In reality, this case was filed by an individual who was let go by the company as a result of serious harassment issues. We stand by our decision to promote a safe workplace environment for all employees regardless of false claims that may be waged against us in retaliation.
Meanwhile, the suit states that Lu was let go because he complained about being forced to work fifteen-hour days without breaks and sustained work-related injuries that resulted in his hospitalization. Although initial reports said that the plaintiffs demanded about $45 million in damages, federal suits often don't disclose dollar amounts, so there's no word on how much money is currently at stake. Wang's lawyer, Hugh Mo, will have twenty days to respond to the new allegations.
Related: 
Alexander Wang Lawsuit Stalled; Bizarre Lawyer Beef Surfaces
Alexander Wang Denies Those Sweatshop Allegations
Alexander Wang Sued for Running Alleged 'Sweatshop' in Chinatown