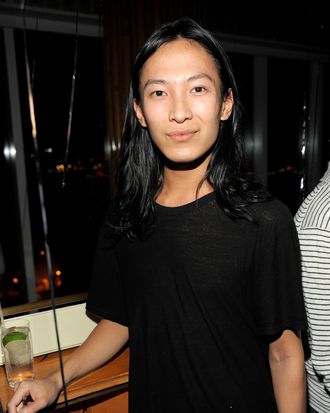 Alexander Wang.
Photo: Clint Spaulding/? Patrick McMullan
Thirty workers have filed a $50 million lawsuit in the Queens Supreme Court against Alexander Wang for running an alleged sweatshop in Chinatown, the Post reports. The lawsuit claims that employees were forced to work sixteen-hour days or longer in a windowless room at 386 Broadway without receiving overtime pay. One plaintiff, 56-year-old Wenyu Lu, who worked at the Wang factory for three years, says that Alexander Wang's brother Dennis called him names and threatened to fire him if he took breaks.
According to the Post:
Lu claims he was hospitalized for several days after he passed out at his work station because he was forced to work 25 hours straight — without a break — and was told he'd be fired if he didn't follow orders.

Lu, 56, a three-year employee of teh [sic] Wang factory, claims he was also ordered to "knit and perfect a professional grade leather trouser from cut to finish in four hours."

The job normally takes 12 hours, and results in a pair of pricey pants that can retail for $300, the suit says.

When the four hours passed, Lu claims he was insulted and called names by Dennis Wang, who ordered him to not take a break or go home until the job was completed, the lawsuit says.

Lu was ultimately fired on Feb. 16 after complaining about the labor law violations, bad working conditions, and applying for worker's compensation, said Ming Hai, his lawyer.
Wang's representatives say they haven't been served with the lawsuit yet, and therefore won't comment on the case.