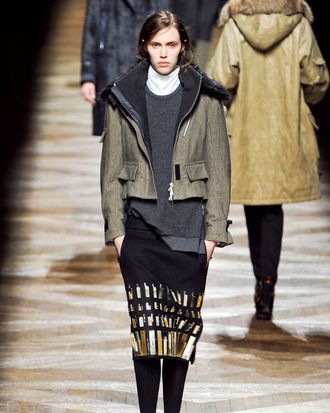 Larocca's favorite look from Dries Van Noten.
Photo: Alessandro Lucioni/Imaxtree
 Get excited: Here is the first Paris Fashion Week diary from New York's fashion director, Amy Larocca.
Wednesday, February 29
Morning: It's nice to be in Paris. It just is. The shops are dazzling, the cafés are full. I spend the morning at the Luxembourg Gardens and then walking around the Palais Royal, where I poke around the shops. There is a truly terrifying wax figure of Rick Owens in his store that actually makes me jump, and there are beautiful scarves in Epice — and of course there's loads to covet in Stella McCartney and Pierre Hardy. There's also that Japanese shop (Journal Standard) that reminds me of 45 RPM where a T-shirt is (no joke) €690. In the window of Marc Jacobs, there's a "wanted" sign (the picture reminds me of the Unabomber) for the thief who stole the spring 2012 collection samples from a truck. I cut over to St. Honoré and go into Vanessa Bruno on the Rue Castiglione. The salesman tells me that if I want anything, I should just buy it now because Fashion Week is about to start and all the people, they will stop by the shop and touch everything and buy everything and so on.
3 p.m.: I can't think of a better way to start Paris Fashion Week than with a Dries Van Noten show. For starters, it's in a beautifully ornate nineteenth-century hall in the Hotel de Ville (the locations in Paris are endlessly mind-blowing) and also … it's Dries Van Noten, one of my favorite designers in the world. The music is Bon Iver's "Woods," and it is still and calm and beautiful, and so are the clothes. It's hard to pick a favorite, but there's one look that I can't get out of my head because everything about it is just so exactly right: an anorak with a fur trim, paired with a white turtleneck, a soft, oversize sweatshirt, and a heavily embellished skirt. 
5 p.m.: A drive across the Place de la Concorde as the day's gray clouds are burning off, and then up the stairs into the Grand Palais for Rochas. Marco Zanini is especially great at knits, and a master of what I like to think of as "nerd chic." I love it. Cozy sweaters, knee-length skirts, Philip Johnson glasses, thick tights, and stack-heeled sandals — it's what a graduate student (dissertation on Roland Barthes) at the Sorbonne would wear in the world's most stylish new wave French film. 
7:30 p.m.: I cook spaghetti for Pari Dukovic, our portfolio photographer, to catch up on things, hear about his results from Milan, and plan our week in Paris. He's had amazing backstage moments with Van Noten and Zanini who, sweetly, was apparently moved to tears with each congratulations while surrounded by friends. We agree that it was a quiet, slow, and yet rather thrilling first day. And that we can't wait for Balenciaga in the morning.