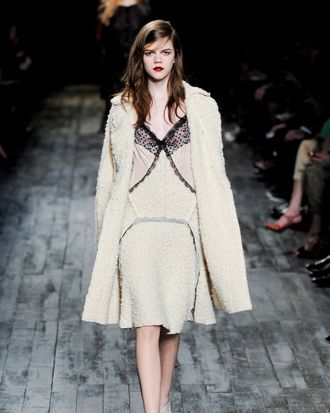 A lacy, lingerie-inspired look Larocca spied at Nina Ricci
Welcome to the second installment of New York fashion director Amy Larocca's diary from Paris Fashion Week.
Thursday, March 1
10 a.m.: At last season's Balenciaga show (which was incredible, by the way, and totally worth flipping through again if you've got the time … ), the benches kept collapsing and so everyone had to stand, which ended up being sort of nice but is not exactly a situation you'd look to replicate. So this season, the show was shrunk way down in size and moved to a very high floor of a very high tower in the 15th arrondissement. Inside, there are men and women in amazing jockey outfits (white turtlenecks, blue caps, crew-neck sweaters) standing as still as the guards at Buckingham Palace, except for one who gestures to the elevator. Upstairs, the room is floor-to-ceiling glass and every guest has her own cushioned stool. It is a foggy morning in Paris — Eiffel-Tower-half-concealed kind of fog — and the effect inside is that we are floating on a cloud.
The whole experience is fantastic. Salma Hayek is, truly, a pocket Venus — small and perfectly formed — and Charlotte Gainsbourg is so lanky and cool. Nicolas Ghesquière has this magical ability to dig into the Balenciaga archives and emerge with something entirely modern, but nearly couturelike in its construction. I'll hold off on saying more until my re-see next week, because these are the kind of clothes that are nice to actually get your hands on.
11:00 a.m.: Delfina Delettrez is showing her latest jewelry collection, titled "Metalphysic," at the Louvre all day, and I stop by after Balenciaga. The jewelry is "worn" by a series of statues covered in harlequin paint, and it is all inspired by ancient Rome: marble, mosaics, columns, and these fantastic surrealist rings studded with pearls.
3:00 p.m.: The street-style thing has officially gone insane. The gulf between what the vast majority of people wear to fashion shows (black, mostly, and navy blue, and anything that looks sleek and plain and like it might be worn by either Phoebe Philo or Emmanuelle Alt) and what the new batch of street-style stars wear to fashion shows only grows wider by the second. It's a total zoo outside Balmain. In order to catch a photographer's eye, people have started dressing in cuckoo colors and wearing things that are, frankly, seasonally insane. And they pose in these very strange ways, but aim to look natural. There's the "studying a schedule," which can go on for days. Another good one is the "holding an invitation as a sunshade while scanning for your driver," even if your driver is standing right next to you, or even if you don't have a driver at all. And who could forget the, "Oh, who, me? I just have to send a text with my legs positioned at this extremely flattering angle"? But I digress! The show: I see shades of Depeche Mode, big shoulders, and mega-embellishment that is heavy on the pearls — it's almost as if Margaret Thatcher were in office, rather than at the cinema. These clothes are super-expensive, and quite a few of them look worth it.
4:00 p.m.: On the way to my next appointment, my driver tells me that, since last season, he's gone into the business of being a hair merchant. He stops at a traffic light, jumps out of the car, opens the trunk, and returns with a bag full of ponytails that he insists I touch — very smooth, I must admit. No Keratin, he boasts. And then he tells me to give up shampoo and only wash my hair with bottled water (Volvic), starting now.
4:15 p.m.: Why is it that French shoe designers are all so adorable, so charming, and so nice? Bruno Frisoni, Christian Louboutin, Pierre Hardy … I don't really have an answer, or even a working theory, but this is a fact. Pierre Hardy, with his adorable glasses and his entirely winning giggle, is showing his collection in the 10th. Great heels, per usual, and an amazing sparkly evening sandal that's a party in and of itself.
5:30 p.m.: Because Karl Lagerfeld is not, like, busy or anything, he designs a capsule collection for Hogan. There, I see that the company's signature sneakers have been bedazzled by Karl, quilted by Karl, and covered in studs by, yes, Karl. Downstairs, at the Galerie Bailly, there is a video of Lagerfeld, shooting his designs on Saskia de Brauw. He calls the collection "interAktive" with a "K," presumably because he is named "Karl," and not because he is a Kardashian Kousin.
7 p.m.: There are magical moments during Paris Fashion Week, and this Nina Ricci show is one of them. Held in a tent in the Tuileries, there is a white path from the Place de la Concorde to the venue. All along the sides of the pathway are candles, and all around Paris, the lights are just coming up. Inside, the collection is lovely: all lingerie-inspired lace and easy, washed silk dresses that anyone would want to wear. Walking out, the candles are still burning and you can see all the way up to the Champs Élysées.