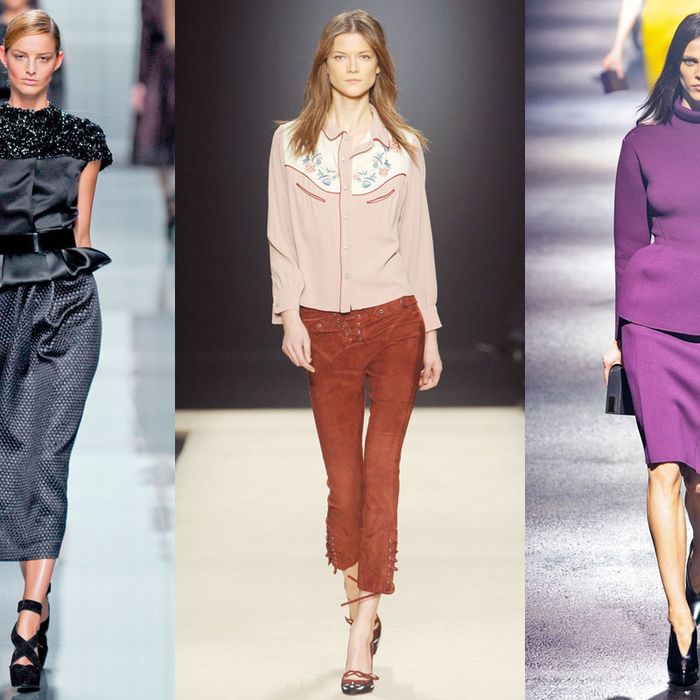 From left: looks from Dior, Isabel Marant, and Lanvin
New York fashion director Amy Larocca continues to blog about her Paris Fashion Week adventures.
Friday, March 2
9 a.m.: On my way to breakfast, I run into James Scully, the casting director who did a video series for The Cut this past season during New York Fashion Week. He's fully caffeinated, listening to his iPod, and on his way to Stella McCartney's studio to work on the show. 
10:30 a.m: There is a man sitting across from me at the Hussein Chalayan show wearing a full tuxedo, studs and all. There is also a video installation, but I have a hard time seeing it as my view is partially obstructed by a big concrete pillar, like a cheap seat at the ballet. When I crane, I can see phrases projected onto a wall. They include: "no dark no light," "leaving," "lit solitude," "domisilent," "reverse winter," "nature mort" and "just is." The clothes are far more straightforward — there are about a zillion beautiful coats, and a series of dresses featuring large cutout sections, and everything is worn with plain pumps. All so wearable, all so well done. 
2:30 p.m.: On my way to the Dior show, which is held at the Musée Rodin in the 7th arrondissement, I wonder if there will be some sensational announcement on the runway about the future of the house. I imagine balloons dropping, like at a political convention, and Raf, or not-Raf, emerging to cheers and maybe also confetti. This doesn't happen. There is the usual mad crush at the door, this time caused by several Chinese movie stars and both of the Richards twins. Inside, everything is calm and collected, though at one point the lyrics in the soundtrack were, "You seem so near but never appear…" Everything about the collection is solid, and there are references to the ballet, and to tailoring, and (of course) to the New Look, with its emphasis on a belted waist. But it's hard not to want something more than just solid from Dior.
3:30 p.m.: At Isabel Marant, I sit next to my friend Jen Mankins, who owns the Bird boutiques in Brooklyn and is from Texas, which seems about right as everything in Marant's collection is Western and there's a Johnny Cash remix playing.
7:30 p.m.: In an old gym on the Boulevard Malesherbes is the Yohji Yamamoto show. The tuxedo man from Chalayan is across the runway again, and he is still wearing his tuxedo, and it is still flawless.
9 p.m.: It would take a real Grinch to find Alber Elbaz and everything he does anything but adorable. Ushers wear red velvet suits, there are enormous cakes all over the runway, and then … all the champagne. When the show kicks off, it's this unbelievably energizing jolt of color: green, purple, red, and blue. Plus, there's that Lanvin thing going on where all of the models look happy in their clothes. But it's the end of the show that's the biggest delight: Alber himself stands on a stage with the band Pink Martini (including special guest star Paper's Kim Hastreiter) and says, "I love you" to the crowd. Then he bursts into a verse of "Que Sera, Sera." It's a fully uncynical, entirely joyful moment, complete with cheering and big, goofy grins on faces you would not expect such things to appear.
10 p.m.: Lanvin party! Cupcakes and flutes of champagne everywhere. The crush on the way in is slightly terrifying — the surge of all those bodies — but once inside there is actually space and everyone is, actually, still happy. Seriously.