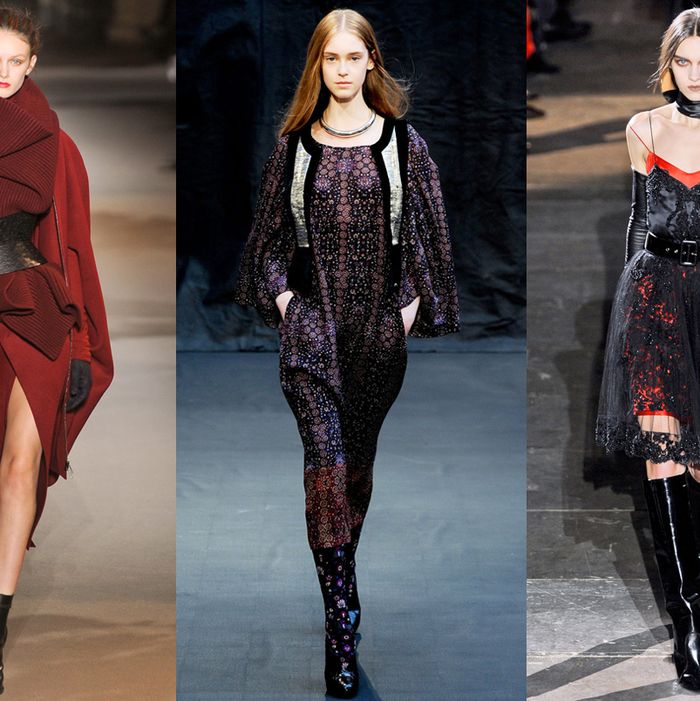 From left: looks from Haider Ackermann, Hermes, and Givenchy
A special weekend wrap-up of Paris Fashion Week from New York's fashion director Amy Larocca.
Saturday, March 3
10:30 a.m: After all these fashion shows, friends always ask who The Next Big Thing is, and, for a few seasons now, the answer has been Haider Ackermann. He has an incredible touch with draping, an exquisite eye for color, and razor-sharp tailoring skills to boot. His show got me wondering if he will figure in the latest round of designer duck duck goose because the show is pretty dazzling. Mega cheers, and a standing ovation.
11:30 a.m.: I do a drive-by at the London designers' showroom down a tiny little impasse in the Marais. I don't go to London for Fashion Week, so it is a nice way to see the city's designers in one place. I am particularly taken with J JS Lee's padded silk crepe coats. I keep hearing about Mary Katrantzou, and here are her dresses: crazy prints! Outrageous prints! 
12 p.m: Drop by a pharmacy to pick up some essentials and am, as usual, seduced by all sorts of nice-smelling things. Buy several pots of Nuxe honey lip balm. 
1:30 p.m: At the Viktor and Rolf  show, they do their typical showmanlike thing and send the models on a moving runway in silhouette against a giant cut-out of the moon. I get a little distracted during the show thinking of duos: Gilbert and George. Andrew Andrew, etc. 
Sunday, March 4
1 p.m.: I am not at the tiny Céline presentation, as I have received an e-mail from PR asking if I wouldn't mind seeing the clothes on Monday instead. Phoebe Philo's decision to skip the hoopla this season because of her pregnancy has been a big discussion topic all week. I'm impressed by her decision for a few reasons. If you put aside the fact that it happens to be a rather shrewd move — it's the kind of thing you can do when you're comfortably on top, and it only serves to underline the label's aura of exclusivity — it's also one that's very much in line with Philo's entire design ethos. I find myself increasingly attracted to work by female designers like Philo, Stella McCartney, and Clare Waight Keller, who have a deep understanding of the needs of women in their situation, which is to say in their mid-thirties, with children and jobs. 
I worked until my 42nd week of pregnancy, and it was not great. I was exhausted and uncomfortable, and I certainly would not have wanted to stage a fashion show for thousands of people when my feet were so big I was wearing my husband's socks. There are quite a few people who disagree with me on this, but I think it's pretty great of LVMH to allow Philo to work in a way that she finds physically manageable. Pregnancy can be difficult, and if this was, in fact, her reason for scaling things back this time, I'm A-okay with that. 
2:30 p.m.: Maiyet, which is a label that was founded by a South African human rights lawyer last year, shows in the 8th. The Barneys team is in full effect — they have an exclusive — and it seems to me these are exactly the right clothes for a Barneys customer.
4 p.m: Hermès is in a courtyard at the Ecole des Beaux Arts, another dream Paris location. The inspiration starts out Gaucho and moves to Ballets Russes, which is one of those things designers are always going back to, and when it's done as well — as it was done at Hermès — it always makes me happy. My favorite look: a peasant dress with a small vest on top. Cecilia Chancellor walks the runway looking beautiful, and so does Bambou, who looks miserable in her shoes and skips the finale. On my way out I see Jane Birkin carrying a Birkin. And out front there is a driver holding up a tiny Marie Fontaine notebook with "BAMBOO" written in ballpoint pen. 
Once in the car after the show, I see a monk in a white robe with a black cape crossing the street. My first thought is, Oh look at that, a fashion person. My second thought is, It's probably good that I'm nearing the end of fashion month. 
5  p.m.: It just feels weird going to see "John Galliano," since it's really "Bill Gaytten." Everything has an feeling of impermanence. There's a certain absence of mojo in the air. 
6 p.m.: About twelve years ago, Humberto Leon and I were both animated characters on a device called the Moto, which was part of an ill-fated start up that totally failed to anticipate the iPhone, among other things. Now he is a superstar, and it gives me a flash of hometown pride as I enter the completely bonkers location for Kenzo at the Universite Pierre et Marie Currie in the 5th. It's a multistory, open atrium, and Humberto and Carol Lim (his partner in Opening Ceremony and Kenzo) have color-coded the floors (I'm on purple), and installed a series of fluorescent lights reminiscent of Dan Flavin. On each seat is a Magnolia cupcake. I give mine to Azzedine who reports: "I gave this to my wife. She says this is better than to make love. She says that whoever makes this cake knows how to pleasure a woman." Seriously? This, from someone who lives in Paris?
7 p.m.: Tabitha Simmons is presenting her collection of very expensive, very beautiful shoes at an amazing apartment above the Rue de Rivoli. It is reached by a glass elevator, and inside there is taxidermy on the walls, faded oriental rugs on the floors … it's like a restaurant in Williamsburg except for the incredible view of the Eiffel tower (and also the fact that this place has probably looked like this for the past 75 years).                                            
8 p.m.: There are celebrities at Givenchy! Lots of them! It's been a light-on-celebrities week, but now they are coming fast and furious. Kanye West is wearing a bedazzled sweatshirt. Alicia Keys is wearing a white suit. Laetitia Casta is bare-legged and one of the most beautiful human beings I have ever seen. There is a man sitting behind Puffy who is wearing what looks to be a yarmulke and has the word pais shaved into his 'fro. It's freezing in the Lycée Carnot (KCD's Ed Filipowski apologizes — the heating's on the fritz) and for once everyone is happy to smush together. There's a techno soundtrack and amazing clothes — leather, lace. Afterwards, I see two teenage boys completely freak out and dart into traffic trying to get closer to Kanye. 
9 p.m.: Roast chicken at Fontaine de Mars, a small restaurant in the 7th that is open on Sundays. I nearly fall asleep into my mille-feuille.