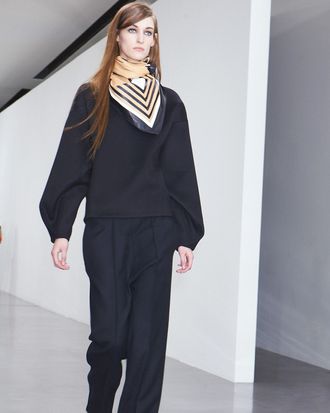 A leather scarf from Celine that will surely be draped around many a fashion person's neck come fall.
Photo: Imaxtree
As Paris Fashion Week marches on, so do New York fashion director Amy Larocca's diaries from the shows.
Monday, March 5
10 a.m.: Terrible traffic en route to Stella McCartney caused by the Frenchiest combination of events: the fashion show and a political protest, this one by nurses in scrubs. Inside the show, there are so many people clad in so much Stella — particularly the printed pajamas from the current collection. "Why are so many ladies wearing pajamas?" I hear one photographer say to another. I can't think of another show where you'd see so many people wearing the collection in the audience (unpaid people, that is).
11:15 a.m: Quick stop to buy a pair of slippers at Du Pareil Au Même for my friend's 3-year-old son, who has just vomited all over the pair I bought him last season. 
11:30 a.m.: Re-see at Hermes, where everything feels so incredibly nice to touch. The leather is so soft! I want to wrap myself up in the cashmere poncho and sleep on the spun-cotton blouses! And I love the black-and-navy suede booties with a high heel, courtesy of Pierre Hardy, who designs the shoes. And there's a new color for the leather goods: cool blue linen. 
2 p.m.: Arrive at the Céline showroom to see the collection. I'm impressed by how nicely smushy the leather scarves are, and am hereby predicting these will be the accessory all the fashion people buy come fall. The clothes are, for the most part, very oversized and the fabrics are on the heavier side. Phoebe Philo has once again made perfect coats, especially one in navy blue with a double lapel. 
3 p.m.: We pass right by Bon-Ton, my favorite children's clothing store, en route to Chloé. Quick spree.  
4 p.m.: I'm a little bit early for Chloé, and it is very bright in the tent, so I have a minute to really study the ushers. They are, like the ushers at most fashion shows, hired through a service called the Cravats Rouge. Upon entering any fashion show in Paris, you are directed to your section by an epically young and unusually handsome boy. Last week, Paris was on vacation, and so it made sense to see boys who look just this side of puberty working away during school hours. Today, vacation is over, and it is disconcerting. I swear these boys are 14.
5 p.m.: A.P.C. has collaborated with Vanessa Seward, the designer who recently left Azzaro, on a capsule collection, and they are showing it in the sixth, just around the corner from the former home of Serge Gainsbourg on the Rue Verneuil. There are silk dresses and blouses in a navy-and-red print that remind me of Seward's work at Azzaro — nostalgic and dressy without being cloying. The regular A.P.C. collection is here too, and it is full of all the basics you'd expect: a plain black T-shirt dress, Shetland crewnecks, corduroy pants, as well as a perfect leopard-print sheepskin coat. 
6:30 p.m.: There's a cocktail party for Tod's at the Italian embassy, which has to be one of the most spectacular buildings in Paris. The garden out back is easily the size of a soccer field, which never fails to blow my mind. I bite into what I think is a napoleon but is actually foie gras — blech — and head out just in time to see Nicole Kidman heading in. She looks more like a statue than a person. 
7:30 p.m.: It's Stefano Pilati's last show for YSL! I discover that my seat is not, as usual, in the American section, but nestled among the Brits. It's kind of a relief. I like my colleagues a great deal, but I'm getting to the point in fashion month when I'm all small-talked out. Staring silently into space feels fantastic.