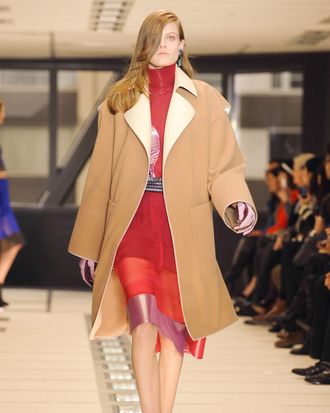 Part of the "legal team" at Balenciaga
Photo: Alessandro Lucioni/Imaxtree
Wednesday, March 7
That's a wrap: Behold, the final installment of New York Fashion Director Amy Larocca's Paris Adventures.
9:45 a.m.: People are going bananas trying to get to the Louis Vuitton show on time. All around the Louvre are ladies leaping out of cars and into traffic and hobbling across the cobblestones, terrified of missing the strict 10 a.m. start time. I walk there with a non-fashion person who watches all of this terror and urgency and agita and says, "It's like the last train from Berlin!"
And, yes, it was all about trains — a giant, super-fancy LV train pulls into the tent (which is situated in the courtyard), spewing steam and bearing models, each of whom descends for her lap around the "platform" escorted by a uniformed porter carrying her bags. The porters are all pretty short and I can't figure out if this is an optical illusion caused by very tall models wearing very tall shoes but, no, it does seem that they are all, indeed, properly short. The clothes are beautiful, per usual, and feature several of the season's biggest trends (we can say things like that now that "the season" is over): embellishment and layers, most of all. Marc Jacobs takes his bow looking like a punk pilgrim.
11 a.m.: The re-see at Balenciaga is one of my favorite things to do during Paris Fashion Week because there is always so much story in the clothes, so much innovation in the technique. My appointment starts off with an explanation of what was actually going on during the show: Ghesquière was imagining a corporation, and he had designed uniforms for all of its citizens. There was the legal team (the coats), the interns (the smart skirts and knits), the power brokers (shoulders), and R&D (ultra-modern constructions). As someone from the press office walks me through all of this, I can hear the sales staff being educated beside me. I wonder if they will use the language on the floor and decide where their clients fit in the large corporation of life. 
All of the clothes are fascinating to touch: there are the hand-cut foam pads in the printed lamé sweaters, fish-skin paillettes on a wool turtleneck that has been washed and dried to achieve the effect. How does Ghesquière think of these things season after season? Mind is boggled. In a good way.
2 p.m.: Marc Jacobs is at the Miu Miu show, still dressed in his punk pilgrim outfit. Katy Perry is walking in ahead of me with her royal blue hair (which I first saw at Viktor and Rolf, where it was teased up into a bouffant to the extent that she resembled Marge Simpson) looking sad. My seat turns out to be closer to Mia Wasikowska and Kate Mara, both of whom are actresses I like, but I am more excited that Lady Mary from Downton Abbey (a.k.a. Michelle Dockerty) is across the runway, chatting with Jefferson Hack. I text my husband. He texts back that I should ask her who she marries. 
It can be strange seeing celebrities at fashion shows because they are dressed for an entirely different event than the hundreds of other people sitting around them. They have full hair, and full makeup and, often, evening dresses on. They look like they are on stage, and in a sense, they are. It's all for the pictures, obviously, but in real life it can be jarring. And they always look so cold in their open-toed shoes, with their goose-bumping arms on such display!
2:20 p.m: All conversations are about home-bound travel plans. No one has anything else left to say. "Good-bye!" says one editor as she heads for the door, "It's been a real pleasure spending the past month with all of you." She looks like she can't wait to be on that plane, headphones on. 
3:30 p.m.: Re-see at Stella McCartney. The showroom is a jam-packed madhouse of buyers, and I'm not surprised. Everyone wants to wear Stella, it's just that simple. 
5 p.m.: My last fashion week appointment is perhaps my quietest. It's at a small gallery in the Marais, and it is with Denis Colomb who, with his wife Erica Lennard, has a small line of totally exquisite cashmere scarves, shawls and, now, clothing that's made in a small factory near Kathmandu. The colors are always dreamy, the softness unbelievable. They've got a few new things going on: embroidery, for example, and some scarves that are made of the thinnest cashmere gauze. It's not a custom designer train station, obviously, but it is an incredibly sweet way to end the month. And now: home.