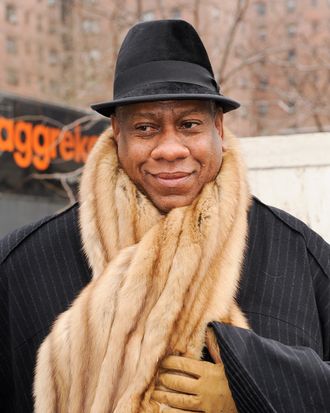 André Leon Talley.
Photo: Ray Tamarra/2011 Ray Tamarra
Today, Bravo announced a number of new shows that will be added to the network's fall lineup. Seven series are in development, with one — tentatively titled Fashion Stories of NYC — featuring André Leon Talley. This is great news for reality-TV fans and other ALT admirers (read: everyone) who've missed him terribly since he passed his sparkly Top Model judging baton on to Kelly Cutrone.
His role on the forthcoming Fashion Stories will be as a mentor of sorts, to "four up-and-coming fashion design teams as they produce the defining collection of their careers … The mission to 'create, show and sell' is clear for emerging designers striving to build a business in New York City which remains the heart of the fashion industry." Conceptually, this sounds like a mishmash of many previous fashion-themed reality shows, but as long as there's an opportunity for ALT to label things dreckitude, we'll be watching. Will you?