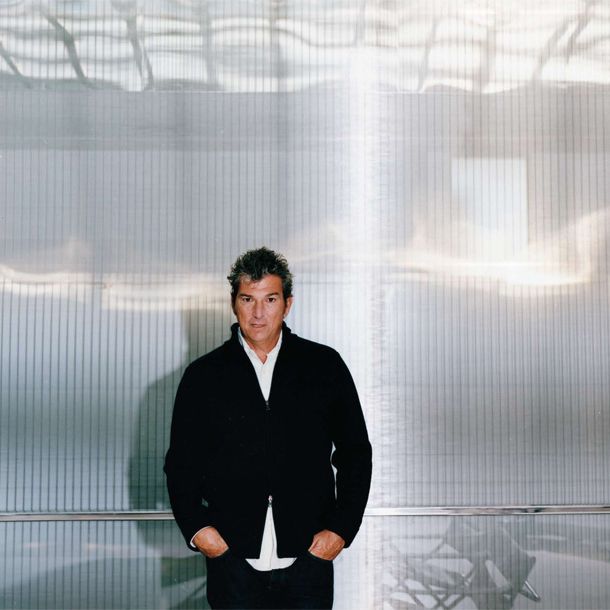 Andrew Rosen, photographed by Tina Barney for WSJ. Magazine
Photo: WSJ
We can probably all agree that mogul is an overused word, particularly in the fashion industry. But when it comes to Andrew Rosen, who owns major stakes in several of New York's most popular and cutting-edge clothing labels — Proenza Schouler, rag & bone, Theory, and Helmut Lang —  the title is quite apt. In WSJ. Magazine's profile of Rosen, which appears  in the forthcoming April "Men's Style" issue, a bunch of his peers and protégés gush about how lovely he is (as beneficiaries of his investments are obviously wont to do, but for what it's worth, he sounds like a genuinely pleasant and extremely smart guy). There's also the requisite discussion of his passion for breeding racehorses and his family history in the garment district (his father, Carl Rosen, ran a huge dressmaking company called Puritan Fashions, which Andrew sold after his father died in 1982). But far more interesting are anecdotes like this one, from Alice + Olivia's Stacey Bendet:
"He said, 'I want to be your partner,' and I was 24, and I'm like, 'Um, I'm just making my fun pants,'" says Bendet. She and Rosen talk every morning now. "He's never tried to change anything I've done — he just makes it more efficient. He's on his way to the acupuncturist, and it's like — boom! — 'Stacey, I passed this store on 65th and Madison and it's perfect for Alice + Olivia!' And I'm like, 'Andrew, I'm having a C-section at the moment,' and he says, 'Oh, don't worry, we can get it opened by the end of the month.'"
Meanwhile, Anna Wintour offers this high praise:
We don't have a Gucci or LVMH in this country … but in his own way, Andrew is creating a kind of American equivalent.
And of course, because moguls often hang out with each other, J.Crew CEO Mickey Drexler is one of Rosen's best friends. Says Drexler:
When I visualize a garmento, I think of a guy with a bad combover, but it's also a term of honor … Andrew's father was a legend when I was a young department store buyer. My father bought buttons and piece goods. There's not many of us left with that good garmento DNA. Andrew's one of the few — he sees things the way they are because he's been there and done it.
Elie Tahari, who co-founded Theory with Andrew Rosen in 1997 (they sold it in 2003, but Rosen still runs it), admires Rosen's personal style.
Andrew always came in to work in Armani with pleats. He was a very dapper guy.
And perhaps most significantly, Rosen's own 24-year-old son, Austin, has nice things to say too:
On Austin's phone is a list of things his father says all the time: "If everything was perfect, they wouldn't need us"; "That's a long run for a short slide"; "The whale that spouts gets harpooned." 

"It's amazing — it's so natural with him," says Austin Rosen. "It's not so easy to teach, though. You have to see it."
The latest WSJ. Magazine will hit newsstands on Saturday, March 31.