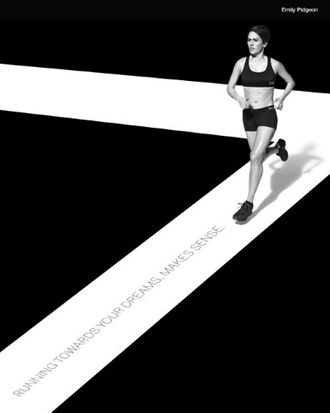 Emporio Armani's new EA7 ad.
This morning, Giorgio Armani sent out his new EA7 Emporio Armani "Sense of Being" campaign, which depicts photos of British Olympic athletes alongside cheesy slogans like "Running towards your dreams. Makes sense." The Telegraph, apparently tapping into the competitive spirit of all this sporty fervor, accused Armani of trying to wrest the spotlight away from Stella McCartney's new Olympic uniforms:
Stella McCartney launched her Olympics campaign at 12pm, and exactly a minute before, Giorgio Armani swooped in with an email announcing his new campaign with Olympic athletes. Talk about stealing thunder.
Yeah, how dare he?! Everyone knows the Olympics are Stella's thing, duh. But seriously, if fashion people are going to fight over Olympians in Spandex until August, then this is going to be a long and boring summer.