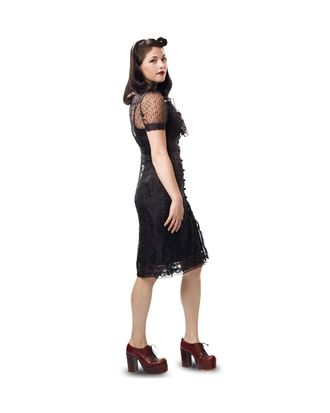 Kenley Collins
Photo: Lifetime
Project Runway's tenth challenge this season narrowed the pre-finale playing field to three. Sadly, the axe needle fell on Kenley Collins, not that our conversation this afternoon would have you thinking it bothered her at all. (We saw tears, Kenley; we saw them bubbling.) We talked about her All Star motivations, her best and worst moments from the season, and whether she preferred Joanna Coles to Tim Gunn. Okay, that's an easy one.
In my mind, you were an absolute lock to be an All Star cast member. When the producers got in touch, were you ready?
Oh no, I was not ready at all. I mean, I'd already done it before, and I never like to do the same thing twice. So I thought about it, and went into it a little bit differently. I said, "If I'm gonna do this, I really want to go into this having a blast, and really just not be competitive about this at all, and really just do what I do best." It gave me a chance to get back out there, and I'm glad I did it.
How did you like your fellow All Stars?

[They were] fun! I feel for the most part we all got along great, and I made some really great friends — Austin is one of my really great friends now, we talk all the time; I've made really good friends with Kara too; and we all live in New York, so we get together from time to time. Those friendships are probably going to last forever. I was happy to meet them.
Was there anyone you didn't click with?
No. I felt like I was okay with everyone. I wasn't – I mean, I don't know if anyone has problems with me, but… [laughs] if I knew someone didn't really like me too much, I stayed away and hung with my friends. Which is natural.
With that said, have there been any snarky confessionals that shocked you?
There were a couple, yeah, but those also didn't really bother me much. I was expecting it — that's the way those interviews go. I will say, though, the one comment that I was kind of thrown off about was Mondo's line, "Why is she still here?" And then [he] went and repeated it: "Why is she still here?!" with his fist up! That was shocking to me, because when I first met Mondo he came up to me immediately and said, "You're the reason I auditioned for the show. You're the reason I became a designer. I was such a big fan of your collection." And to me, when I heard him question my place, he took all of that back. So it hurt my feelings a lot when he was screaming that, and I thought, "You're here because of me. I inspired you!"
It seems like Mondo's been a bit grumpy this season.
Of course. That's no secret. [Laughs.]
So jumping back to someone you did get on well with, Kara. There seemed to be a lot of criticism of your friendship and…

… I didn't care, and I honestly didn't think we were bothering anyone. If anything, we brought light-hearted fun to the workroom. When I saw the show, I was like, "Why are people talking about me and Kara like it bothers them?" I didn't know that. But maybe I should pay attention a little bit more.
A lot of people said they were more stressed because the challenges were so much shorter this season.

Well, I got better. Season five was three and half years ago. [Now] I'm better, I'm faster. Maybe because of that it seemed easier? But I think both seasons I did work equally hard, and it's still bad all around. You get no sleep, and it's constant, like, "all right, runway show! Okay, next challenge! Runway show! Next challenge!"
What were your favorite and least favorite challenges?
Oh, the light challenge was my favorite. I thought that was really fun. I'd never done that before, and it was really cool. I loved it! [As for my least favorite] it's a blur to me! It all happened so fast I don't even remember … Oh, the six hour challenge. I was like, "What the HELL am I supposed to whip out in six hours?!" That was crazy.
It's funny; that episode seemed to be the point at which the judges started criticizing you for sticking too much to your aesthetic. Did you think that was fair?

I don't think anything's fair on reality TV, let's be honest. Or in life, in general. So I don't want to say that it's not fair. But I disagreed! I can definitely say that I disagreed. I was not doing the same silhouettes … okay, there were times when I did do a couple, like maybe the shape of the skirt, or the top, but I don't think I was doing the same thing over and over again. Absolutely not.
What did you think of the new judges this season?
I liked them!
Did you prefer them to Michael, Nina, and Heidi?

It made no difference to me.
And how about Joanna Coles replacing Tim Gunn?

I loved Joanna, because I think that her opinion is what ultimately matters the most to a designer. You want her opinion and you value her opinion a little bit more than Tim Gunn's.
I'd imagine it's particularly tough to lose out so close to the end. Did you see your elimination coming at all?

A little bit. I felt it that previous night — I don't have specific reasons why, but I felt it. I thought, "Okay, someone's gotta go and I have a feeling it's going to be me." I knew I wasn't going win the whole thing — I'd had this gut feeling right from the beginning, and I was totally okay with not making a collection [in four days]. They did me a favor there!
Were you conscious of Michael, Mondo, and Austin as strong competition, or favored at all in the judges' eyes?

Maybe that had a little bit to do with my intuition, but I don't know. I'm just not the winning type. I don't know. I'm just not a winner!
That's not true!
Well, thank you. But I'm not. [Laughs.] You know what I mean? And I didn't go on the show to win, I really didn't, because I knew I wasn't going to. Like I said, I went on the show to get that exposure again. I wasn't designing at the time, and I wanted to start designing again. I wanted to get inspired again. And it was fun.
It seemed like you were really in your element. Do you think not worrying about winning helped?
Yeah, that helped absolutely, 100 percent.
And on the flip-side, it seemed like a few designers …
 … Were too concerned about what the judges thought. Yeah, and I didn't care. Absolutely. I'm glad I got the formula down.
So if the producers called you up for another season of All-Stars and said, "Hey Kenley! Third time lucky?"
Are you crazy?! Hell no. I asked myself every day, "Why am I back here?"
So with that said, what else are you working on outside of Runway-land?

Well, I'm selling some merchandise on my website. And I have an album – I'm in a band called Jet Black Bullseye. It's been about two and half years I've been with this band, and it happened when I needed a big fat break from designing. You can go to our website and check out our music videos; it's cool. The music is the exact inspirations I design with: fifties, sixties girl group vibe, but it's rock. I can't not be me!