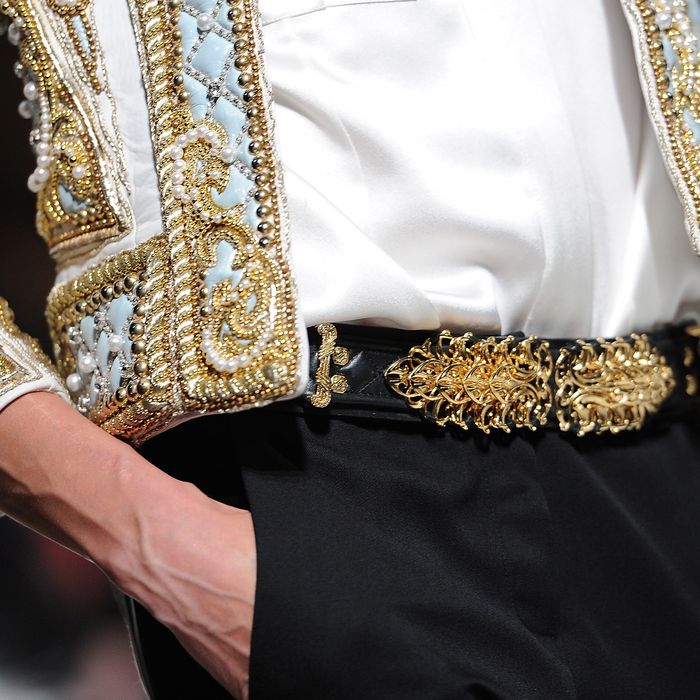 A detail shot from Balmain.
Photo: Pascal Le Segretain/2012 Getty Images
Balmain, the fashion house of $2,275 distressed jeans and $605 cotton T-shirts, showed clothes today that look worthy of what will surely be astronomical price tags. Olivier Rousteing, now in his second season since officially taking over for Christophe Decarnin last March, said he was inspired by the ultimate symbol of frivolity: a Fabergé egg. But not just any old ordinary, sparkly, multimillion-dollar, decadent Fabergé egg; no, he was thinking of the one that belonged to Elizabeth Taylor, which was so special that Taylor once had a cake made in its likeness. As the Times's Eric Wilson aptly noted, "With Balmain's prices, it makes sense to aim high."
Eggs and baked goods aside, the clothes are pretty spectacular. Even though they're composed of precious stuff like pearls, gold, and crystals, the outfits look sturdy thanks to the square-shouldered jackets and tough leather pants. The collection still had plenty of edge, but gone is the trashy rocker vibe that made some of the label's previous garments look more Ed Hardy than Net-a-Porter. It appears that Rousteing — only 26 years old — is proving himself to be a worthy leader of the brand.
See the Complete Fall 2012 Balmain Collection