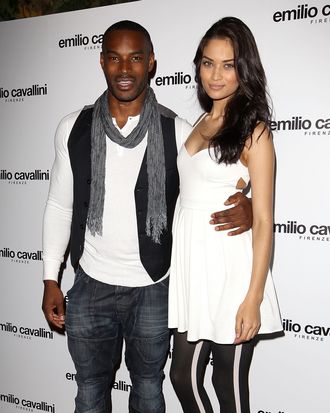 Tyson Beckford and Shanina Shaik.
Photo: Danny Martindale/WireImage
Back in November, when model Shanina Shaik was just breaking into the industry, she swung by our offices for an interview. As a surprise bonus, her boyfriend Tyson Beckford showed up, too, having given her a ride on his motorbike. To the delight of our receptionists — okay fine, the entire magazine staff, many of whom (ahem) did not-so-subtle drive-bys as soon as word of Tyson's presence got out — he waited patiently next to the front desk, flipping through extra copies of the magazine during Shaik's interview. (Gratuitous details: He was very friendly to everyone, wore black motorcycle leathers, carried his helmet with him, and seemed genuinely interested in reading our latest issue.)
Since then, Shaik's star has risen considerably. After appearing in the Victoria's Secret Fashion Show, she booked Chanel's pre-fall show and then a slew of top fall 2012 runways like Jason Wu, Stella McCartney, Vivienne Westwood, and L'Wren Scott. As it turns out, Tyson would like some credit for her successes. He told the Evening Standard:
"I helped place her with the right people, get her teeth cleaned, her body toned up," he says, framing himself as the Henry Higgins of fashion.

"Everything changed and now everyone wants a piece of her. I hear people say, 'You can do better than Tyson.' I'm like, 'Really? Really?! I created her!'?"
It may be true, but come on! In related news, he says he prefers motor sports to sex:
If I had to give up one of them, it would have to be the sex, even though I've got a hot girlfriend. She'll understand.
Understanding, indeed.