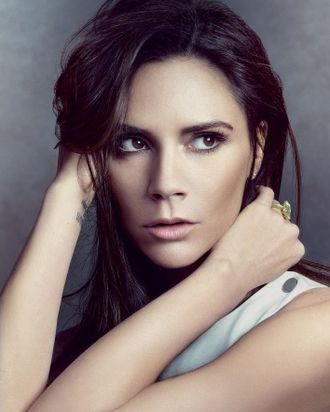 Victoria Beckham, shot for Vogue by Craig McDean.
In her new Vogue profile, Victoria Beckham explains that her kids get lots of celebrity freebies (football lessons from Tom Brady, for example), but life isn't totally perfect:
For Romeo's birthday, as a surprise, the family took him to hang out in Justin Bieber's studio while he was recording his Christmas album. Bieber sweetly sent the boys signed guitars afterward, but Romeo's was signed to "Pax" (Angelina Jolie and Brad Pitt's son). "So we got one of the Jolie-Pitts' guitars," says his mother.
Gosh, how embarrassing for the Biebs, confusing his celebrity fans like that! But then again, perhaps this happens all the time — Malia Obama has a CD labeled "to Khloe," while Apple gets stuff addressed to Benjamin Brady, and Suri has a big, glittering pile of Blue's baby gifts stashed under her canopy bed. Actually, that last example is almost definitely true.