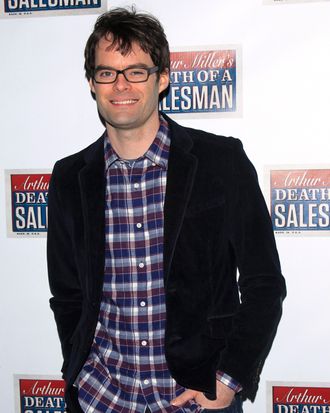 One postmarked invitation, please.
Photo: Jimi Celeste/Patrick McMullan
Saturday Night Live head writer Seth Meyers is hosting this year's CFDA Fashion Awards, and if he wants to liven things up, he need look no further than to one of his Weekend Updaters. When The Cut caught up with Bill Hader at opening night of the Broadway revival of Death of a Salesman on Thursday, the SNL vet told us he'd love to appear at the CFDAs in the guise of City Correspondent Stefon Zolesky.
"I would like that," he said. "That would be fun. We did something for an autism benefit at the Plaza Hotel, so we've done it outside the show before, and it was a lot of fun. So yeah, I would totally do that [if asked]."
Hader said he was surprised by the current Stefon-mania — and how many people come up to him to claim Stefon-ness. Literally seconds before our chat, he had one such encounter, when a reporter from Us Weekly felt compelled to tell him, "I am myself a Stefon," and proceeded to quiz him about his character's wardrobe. ("The whole reason I liked [wearing an Ed Hardy shirt] was because of the sleeves," Hader told him. "Long sleeves.")
Referring to that exchange, Hader told The Cut, "I get that a lot. It's like that guy who says he is that person. So many people come up to me and say, 'I am Stefon.' One guy who I used to work with at SNL said, 'Did you base that on me?'"
In fact, the guy Hader did base Stefon on may be the only one who hasn't claimed Stefonhood. The inspiration for the character came from a discussion with a barista in Chelsea ("I'm not going to say [where], because I don't want people going in and bugging the guy") who told Hader a story about his mother staying with him. When Hader repeated the story in the barista's voice to SNL writer John Mulaney, a character was born. "John was smart enough to go, 'Hey! We should do that on the show,'" Hader recalled. "John said it was the same kind of person as someone he knew who was starting a club night, and we combined them. And from there, we had enough for a good Update feature."
"The guy at the coffee shop has no idea, to this day," Hader added. "I've gone in there since, and he has no clue. He goes, 'Stefon is so funny!' And I go, 'Thanks!' And I've never told him."
Hader doesn't want to wear out Stefon's welcome, however — which is why he's trying to not to overdo the character on Weekend Update. "Every time I roll out there, I'm basically shocked that people go crazy," he said, laughing. "I'm so like, 'Wow.' I'm in character, but in my head, I'm going, 'Wow, they still like this?' And the minute I go out there, it's like, 'That's it! No more. We better not do this anymore!'"
Now, what would Stefon himself have to say about that?