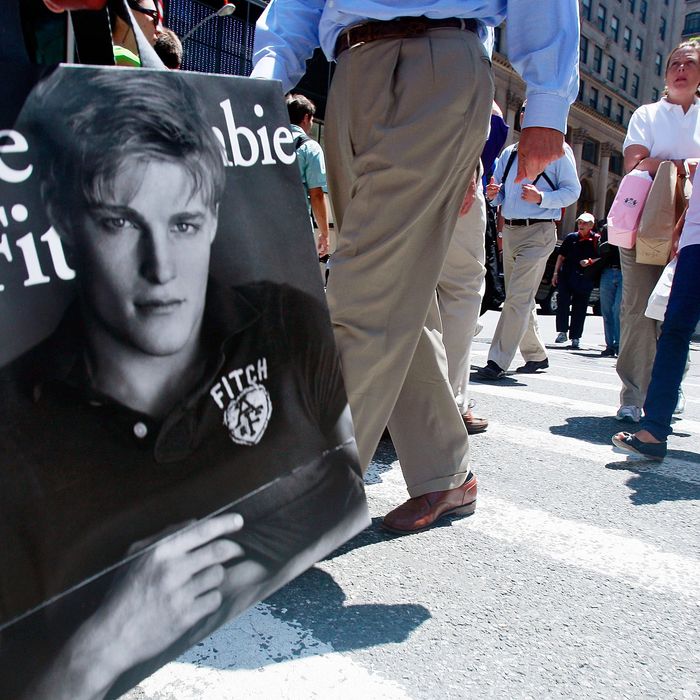 A shopper carries an Abercrombie & Fitch bag down Fifth Avenue July 9, 2009 in New York City. Abercrombie & Fitch Co. posted a 32 percent drop in same-sale stores in June. Retail sales were lower at many clothing retailers in June, as the downturn in the economy and poor weather in the Northeast kept shoppers away from summer apparel purchases.
Photo: Mario Tama/Getty Images
High-end tailors on London's prestigious Savile Row might be invaded! And by "brash Americans" to boot. Retail chain Abercrombie & Fitch recently submitted plans to take over a space on the Row for a children's wear store, and the proposal is proving unpopular. In interviews with British newspaper The Guardian, other Savile Row tenants explain their anti-A&F stance — seemingly borne out of a fear of competition, a fear of tourists, and a touch of quintessential British snobbery.
A Gieves & Hawkes spokesperson told the local council — responsible for granting (or denying) planning permission — Abercrombie's presence would be "totally out of character" for the street, and a representative from H. Huntsman & Sons suggested Savile's safety could be compromised, somehow, by small children in their overtly branded preppy stripes and slogans. The snarkiest argument came from an anonymous tailor, worried that, "a chain store selling crappy clothes to ghastly people isn't really the direction in which we [on Savile Row] should be travelling." Why can't they just keep things civil/Savile? (Groan.)