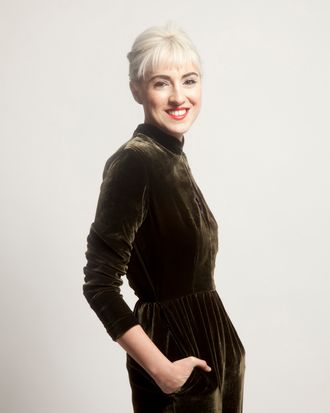 Idil Tabanca, wearing Suzanne Rae.
You might recognize Bullett magazine's editor-in-chief, Idil Tabanca, from street style blogs. Or, if you saw her on the street, you might think she was Lady Gaga, but only from the back. "I used to have my photo taken a lot because people thought I was Gaga from behind, but it would mostly be tourists on the street," she said, laughing. Tabanca has helmed Bullett since its second issue (the quarterly magazine just came out with its sixth), and she's currently expanding Bullett Media to include various advertising platforms as well as an actual store where customers can buy items featured in the magazine. We caught up with her earlier this week to discuss the future of advertising, her eBay shopping habit, and her three closets. 
Bullett magazine doesn't have traditional ads in it. How does that work, finance-wise?
We have a lot of partnerships with different brands under Bullett Media's creative agency. So it's not like they say, "Oh, here's a page; put it in your magazine, we'll give you money." It's more like our creative team sits down with the brand's team and we brainstorm about a situation where everybody wins.

Can you give me an example?
Maybe we'll include their pieces in a shoot, or sometimes we dig into their archives and pull some stuff and get a story that way. It's about marrying the content with advertising in subtle ways and have them serve each other and not just one or the other.

A lot of magazines feel pressure to feature advertisers already, so you're basically just cutting out that awkward expectation.
Exactly. We'll develop packages with our partners that include events, and print coverage, and the whole 360 degrees of Bullett's creative agency services. We're also launching a store in the future, so our partners will be able to make special items for that, too.

What's the store going to be like?
It'll be a lot like the magazine — a physical representation of street style meets high luxury. A store that already does this really well is Opening Ceremony, and it'll be similar to that, but also we want to support a lot of the young designers that we feature in the magazine. We'll also have art and photography books, and a strong e-commerce component. It's in the very early stages, but in about three months we'll start to publicize it.

You've been shot a lot by street style photographers. What's it like being a fashion celebrity?
I used to have my photo taken a lot because people thought I was Gaga from behind, but it would mostly be tourists on the street. And then one time I got attacked because I think they thought I was Gaga. I don't know. That was at Art Basel, and it was really crazy at the W Hotel. But they definitely thought I was someone else. It was really scary, actually, with all these photographers popping out of the bushes.

What do you think it is about your style that gets you photographed?
I used to live in California, and obviously people have much much better style in New York, but people here are kind of scared of color, and I like color a lot. I'm not scared of print, either. I love to do print on print on print. And I think that's what's interesting to people and to photographers. A lot of people in New York are very clean-cut and sophisticated in their all-black outfits, and I still have a wild child in me.

Do you feel like pressured to dress a certain way, knowing that you might be photographed?
Only during Fashion Week. I definitely think about it more. If I'm going to see a show and I'm representing Bullett, I want to look a certain way, and I want my publication to be proud to have me as an editor-in-chief, and I want the designer to feel proud that I'm there looking the way I do. But fashion is something you just cannot do 24/7. I definitely have my moments where I really relax and go to my California mode.

Where do you shop?
I'm an avid eBay shopper. Pretty much every day I search for vintage Versace on eBay. I also love vintage Gucci shirts. Gucci sweaters, too. For jewelry, I love charms — people will sell these amazing vintage bags with these vintage charms, really special ones, for so cheap. I got a lot of those. I put them all over the latest issue, too, because I felt like that was the vibe. I like shopping for really personal stuff from people. It's a little bit creepy but I love it.

What if something comes in the mail and you don't like it?
I don't have time to deal with it. I'll just keep it. And I never do reviews on eBay, so people probably hate me, but I don't have time to sit and write them.  

What does your closet look like?
Very colorful and very sparkly. There's so many shoes that don't fit. A friend came to stay with me the other day and I gave her, like, six pair of shoes to take home. I was like, "Take them home, please. Get them out of my life." I actually have three closets. They're all in different rooms. I have one closet that's just shoes, and one that's just shirts and clothes, and one that's just casual wear stuff. So I have to run around the house when I'm getting ready, from one room to another.

How do you decide what to wear in the morning?
To be honest, if I'm going to something I really don't want to go to, I will wear something that is not cute, on purpose. My mood and my outfit are incredibly correlated. It's almost scary.

What's a bad mood outfit?
A bad mood outfit is probably a pair of tights from American Apparel, and flats, and probably a sweater that's decent, and my Army coat. That's my bad day outfit. And my Marc Jacobs bag because it's the easiest one to grab.

What's a good day outfit?
A good day outfit is definitely very special pieces, possibly Versace. My best outfits are the ones that I mix from recent collections with a vintage twist. And definitely heels. If I'm in a good mood, I will wear heels, particularly if I'm going to see someone I'm excited about. It just makes me feel more powerful, and womanly. Especially my Louboutins.

Whose style do you really admire?
Grace Jones. She's the original "I'm a piece of art" woman, you know? I just feel like her style is such a natural and organic extension of her that it doesn't seem forced or fabricated by a team of professionals. It's so effortless, yet it's so crazy! She's like a sculpture. 

Any new trends that you're excited about?
The new round shoulder shapes. I'm such a sucker for shoulders and upper body structure. I also like this new trend that I call Tumblr Chic. The girl who has blue hair or pink hair – you saw the influence at Jeremy Scott and at Meadham Kirchoff. A Tumblr girl is like 13 or 14 years old, and a fashion fan but sort of a geek. Tavi used to be a Tumblr girl, sort of. 

Are there trends you hate?
Platforms.

It's amazing how many people say they hate platforms, but yet, they stick around.
I know, they made a comeback and they're here to stay. But they're just not as interesting anymore.