Kim Kardashian and Kanye West attend the Kanye West Ready-To-Wear Fall/Winter 2012 show as part of Paris Fashion Week at Halle Freyssinet on March 6, 2012 in Paris, France.
Photo: Eric Ryan/Getty Images
Kanye West showed his second collection in Paris yesterday, and the verdict is in: The clothes were better than last season, but still not great. The front row, on the other hand, was totally ridiculous in an awesome way. Kim Kardashian was dressed head to toe in Kanye's spring 2012 collection, complete with those $6,000 shoes everyone's all worked up about. Anna Wintour was there, and apparently even smiled when go-karts started zipping around an indoor track along the runway. What's more, André Leon Talley sat next to her wearing Uggs and what appeared to be velour pants. During the finale, kangaroos hopped down the catwalk, and then afterwards Karl Lagerfeld served everyone ice cream! (That last sentence was a lie, but you almost believed it, right?) But really, there was a crazy after-party with yet more go-karts, Alexander Wang after-party-style; in fact, Wang was there, and he rode one himself.
Anyway, the clothes: There were only twenty looks, possibly because critics blasted Kanye last season for not editing tightly enough (among other things). Models including Karlie Kloss, Jourdan Dunn, Joan Smalls, and Carmen Kass wore knee-high boots with bandage detailing, shiny leather chokers, and runny raccoon eye makeup. Fuzzy peplums, crop tops, and backless leather jackets all made appearances, as did a black fur backpack. A common silhouette seemed to be a figure-hugging pencil skirt trimmed with a single ruffle at the knee.
Reviews are in, and they're mostly optimistic. Many critics noted the collection's similarities to Givenchy, which makes sense given Kanye's previous collaboration (and shirtless spread in Vogue) with Riccardo Tisci, who sat front row at the show. In his show write up, the Times's Eric Wilson said that Kanye agreed to give him a preview yesterday and then awkwardly changed his mind when Wilson arrived, saying, "I got treated unfairly by the press last time. Why would I want to do this?" before kicking him out.
Here's a roundup of responses:
From The Wall Street Journal's Christina Binkley:
"Overall, given the extremely low expectations, I'd say he pulled it off. But with a lot of help. The rumors that he has been hiring consultants right and left seem likely accurate." [WSJ]
From the Times's Eric Wilson:
"When Joan Smalls closed the show, wearing an adhesive black gauze dress with a strip of alligator running up the front, it seemed as if Mr. West's approach to making a dress was like a cook wrapping leftover turkey. In an effort to be extra fair, I will say I liked an oversize cream sweatshirt with zippers running up the sleeves." [NYT]
From the Daily Beast's Robin Givhan:
"Kanye West: a little Givenchy, a little Costume National. Will the real Kanye please stand up?" [RobinGivhan/Twitter]
From British Vogue's Dolly Jones:
"[I]t felt like an odd sort of joke. Was it better than last season? In that the clothes weren't ill-fitting enough to fall off the models in the same way, yes … All the trimmings but without the substance – yet – like a boy playing at being a big fashion designer." [Vogue UK]
From Style.com's Tim Blanks:
"West won a much-improved badge …  It was a declaration that West is learning self-discipline in design, and he amplified it aggressively with the martial music, the harsh makeup, the gladiatorial footwear, the odd croc collars." [Style.com]
We'll have a full runway gallery of the looks up shortly; in the meantime, enjoy our slideshow of the show's attendees.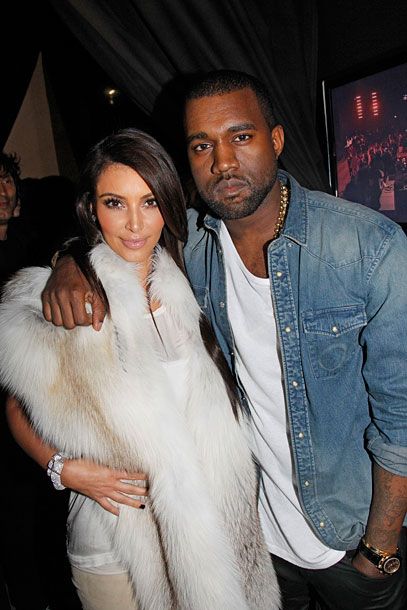 Kim Kardashian and Kanye West
Come to think of it, Dash should totally carry Kanye's line.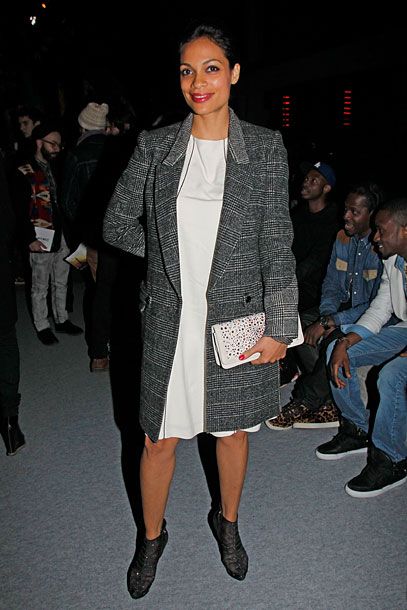 Rosario Dawson
If anyone could pull off Kanye's clothes, it would be her.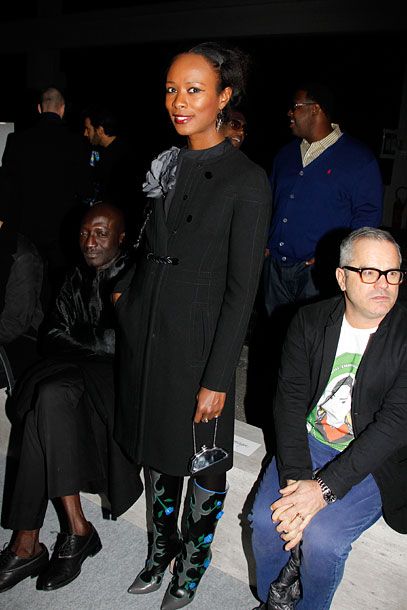 Shala Monroque
Really, why even bother with the purse.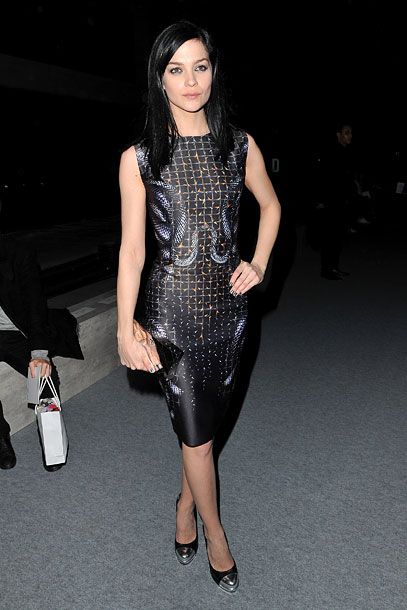 Leigh Lezark
Of course.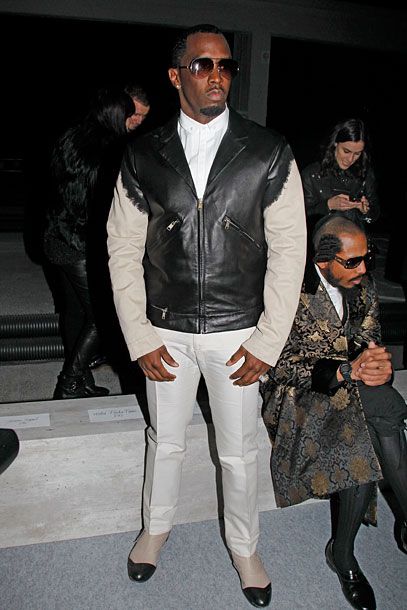 Sean Combs
Spats!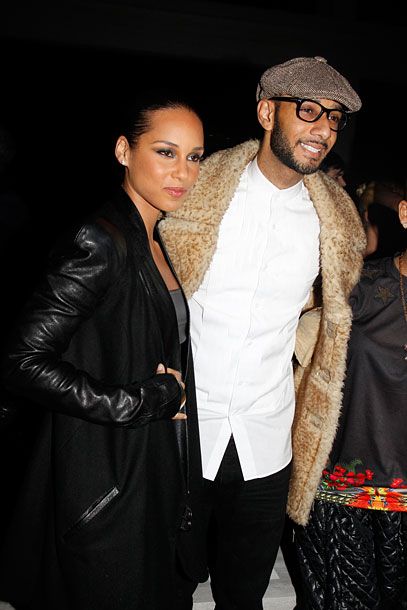 Alicia Keys and Swizz Beatz
There was talk of Alicia Keys performing live at the show but then… she didn't.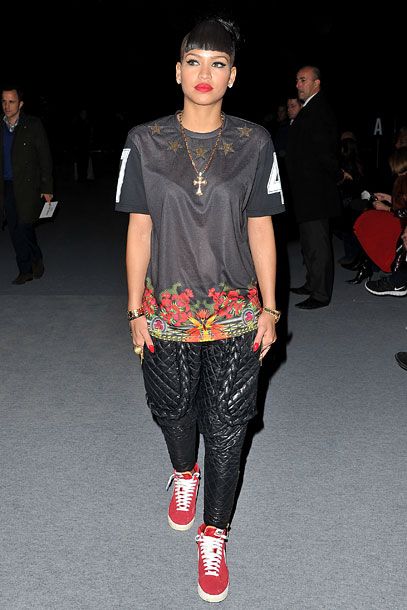 Cassie
Ill-fitting leather pants seemed to be a theme of the evening.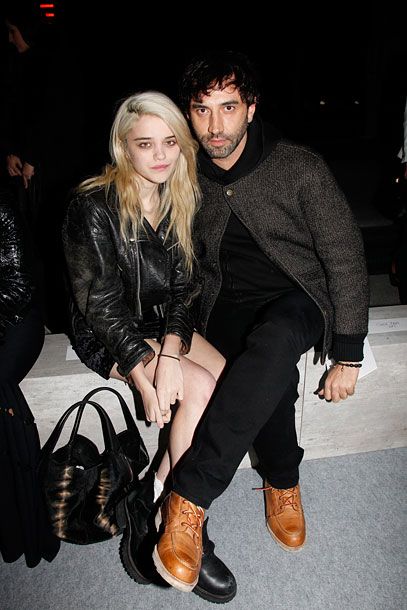 Sky Ferreira and Riccardo Tisci
Critics thought Kanye copied Givenchy, but perhaps Tisci's presence makes that okay.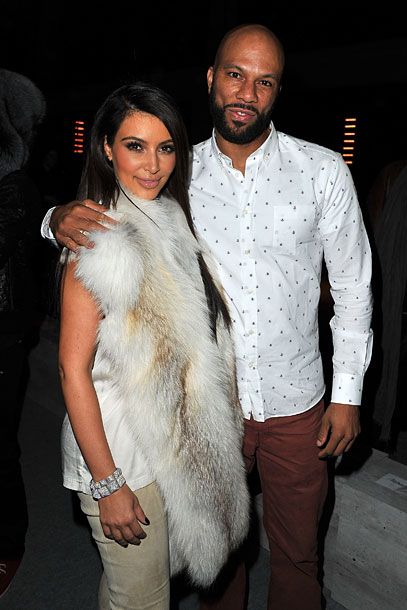 Kim Kardashian and Common
Even Common doesn't know where to rest his hand here.