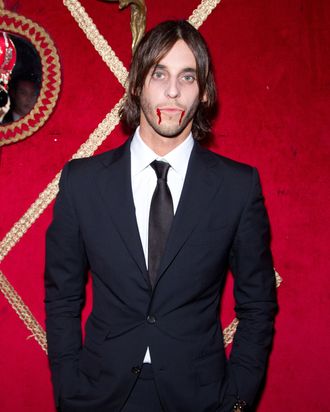 This is Vladimir Restoin-Roitfeld at a Halloween costume party, not after the bar fight in question.
Photo: Victor Boyko/WireImage/Getty Images
Prince Pierre Casiraghi, Vladimir Restoin-Roitfeld, and Stavros Niarchos got caught up in (or, allegedly, instigated) a big, nasty bout of nightclub fighting in the meatpacking district last month. Restoin-Roitfeld even reportedly hit someone with a large bottle of vodka — Grey Goose, of course. Their main opponent in the fisticuffs, club owner Adam Hock, is charged with breaking Casiraghi's jaw, for which he faces misdemeanor assault charges. At a court appearance today, Hock turned down a plea deal. His lawyer spoke with the press, painting Casiraghi, et al., as the aggressors — "international bar brawlers," even.
Expecting to be vindicated at any forthcoming trials, Hock's lawyer said he'll never plead guilty to charges relating to the affray. Eyewitnesses (three of them) supported Hock's assertion that his actions were in self-defense; his lawyer also claimed that "they've started brawls in prior instances … To date, I have evidence of a half dozen of them" but didn't provide any further details.
This morning, the case's prosecutors also turned over security-camera footage from the night. A judge ordered it sealed, as not to risk tainting any future jurors.