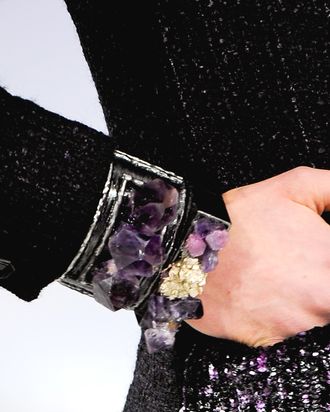 The crystal bracelets in question.
Photo: Armando Grillo/Imaxtree
This past weekend, bloggers at The Fashion Law noted similarities between the chunky, crystal-adorned cuffs that featured in Chanel's fall 2012 collection and accessories produced by New York–based jewelry designer Pamela Love a year prior. Asked for comment, a Chanel spokesperson confirmed that, "out of respect for the concerns raised and for the artistic process generally the House has decided not to offer these bracelets for sale as part of the A/W 2012 collection." It's a welcome, ethical decision on Chanel's part; and fans of the fall cuffs needn't worry, because Pamela Love's bracelets are available here.