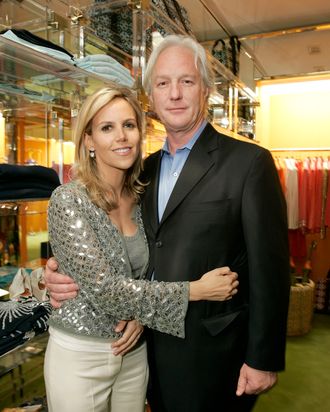 Tory and Chris Burch, pre-divorce.
Photo: Chris Weeks
We can confirm that Chis Burch has stepped down from his position as co-chair of the board at Tory Burch, according to a reliable source close to the company. As a shareholder, Chris remains a member of the board, but the Post reports that he is actively looking to sell his remaining shares via Barclays Capital. This development follows months of rumored beef between ex-spouses (and former board co-chairs) Tory and Chris; Tory is now the sole chair of the company.
Although Chris has never played an integral role in company decisions (he's never even had an office at their headquarters), he was a major investor in the brand, so he remained co-chair of the board even after he and Tory divorced in 2006. Things seemed amicable until last year, when Chris launched C. Wonder, a chain of preppy stores that share a lot of the same aesthetics as Tory's brand. According to the Post, Tory is said to have requested that Chris alter his business plan so that it doesn't so closely resemble her own:
The source said Tory's main concern was to avoid comparisons and confusion between their brands — and she has demanded Chris dramatically change his concept, even though he spent millions on his SoHo store and plans to open another at Columbus Circle in September. The source told us, "Tory is working with Chris to avoid more brand confusion. She is asking him to change his concept, which includes C. Wonder's product, the design and the boutique. It remains Tory's intent not to litigate — she is hopeful he'll agree to change his concept. Litigation would be the very last resort."
So no messy lawsuits in the immediate future. And since Chris appears to be on his way out at Tory Burch, it wouldn't be surprising if they manage to resolve things quietly and privately — as is the preppy ballet-flat-wearing way. 
Related:
Tory Burch Reportedly in Dispute With Chris Burch Over C. Wonder
His. Hers. [NYM]