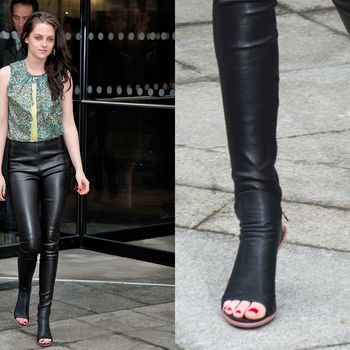 Kristen Stewart at today's Balenciaga show.
Photo: Splash News, Dominique Charriau/WireImage
When recently minted Balenciaga face Kristen Stewart showed up to the label's fashion show in Paris today, we were initially disappointed to see that she was not wearing her new Vans. However, our dismay quickly turned to confusion: Were her black leather pants indeed attached to her peep-toe shoes, like a combination shoe-pants deal? (Shants!) This was such an exciting prospect that we feverishly combed through the past six seasons of Balenciaga collections to find said shants — how had we missed them?! — only to realize, to our chagrin, that she was just wearing Balenciaga's popular tube sandal with leather leggings very carefully tucked in. Mystery solved, albeit disappointingly.
Related: 
Nicolas Ghesquière Taps Kristen Stewart as the New Balenciaga Face
Kristen Stewart Customized Some Vans Sneakers, Really Invested Herself in the Design Process [Updated]