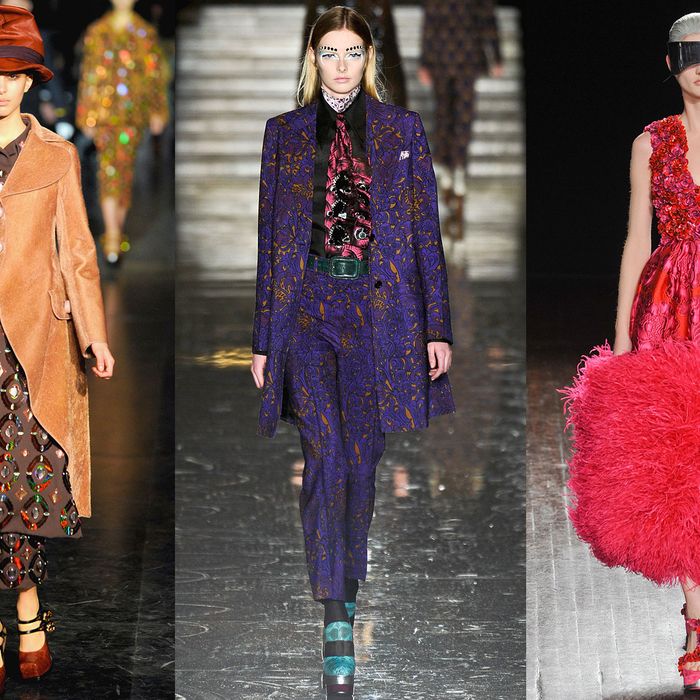 Louis Vuitton, Miu Miu, and McQueen; Imaxtree
Photo: Imaxtree
THE HITS:

•  "She might have shown more conventionally wearable clothes on her runway — no doubt she will in time — but it's almost more important today that there is creative work that is truly free, and not standardized in shape or its expected response." [NYT]
•  "The savage rawness of the late designer was expressed with a gentler, organic spirit by Sarah Burton … a mesmerizing and beautiful collection … This house might even consider showing a collection of such craftsmanship in the haute couture season … [Burton] is now in full creative bloom." [IHT]
•  "Even those in the audience who queried the absence of anything approaching clothes for the everyday surrendered to the forward movement of the stunning technique. As for pushing herself, Burton has tapped a vein of absolute magic. Its spell is irresistible." [Style.com]
•  "Story-telling? Most definitely. But fashion needs stories and wonder and provocation, just as, ultimately, fashion brands need something to sell. The latter was nowhere in sight on Burton's runway … A knockout commercial collection [was in the showroom]." [WWD]
•   "In spite of the styling that always seems dramatic enough to distract us from them, the clothes were nothing short of beautiful – in terms of idea, construction and detail … [Burton is] truly a genius of fashion ideas." [Vogue UK]
•  "Her high-concept stylings guarantee clothes that resemble art — a hallmark of this house — but they also work very nicely as clothes, especially the first half of this breathtaking effort." [Fashion Week Daily]
See the Full Fall 2012 McQueen Collection.
MIXED:
•  "Vuitton is in the business of creating preposterous fantasies around an object really just meant to hold your money and house keys … [T]he bags were really the stars this time. Mr. Jacobs's clothes essentially amounted to clean, linear shapes filled in with glossy textures and embroidery." [NYT]
•  "These travelers were gorgeous in their journey attire and its extraordinary adornment of brocades and jacquards … It might have been Old World travel but for the international set, those clothes will fly." [IHT]
•  "The news on the bag front this season is their oversize proportions and exotic fabrications…Even if the look didn't strike you as a modern proposal, there was plenty to marvel at … [Jacobs is] a damn smart businessman." [Style.com]
•   "[T]he accessories did not outshine the clothes, shown mainly as an elongated tri-layered look, the sum of which was a gracefully exaggerated bell silhouette. A craftwork focus yielded extraordinary fabrications." [WWD]
•   "Rich in detail and colour palette as it was in imagination and conception, this show was a celebration of fashion in every sense – take it apart piece by piece, bag by incredible bag, coat by precisely constructed coat and it was all about fantastic clothes and accessories, too." [Vogue UK]
•  "[I]t was a somewhat old fashioned collection, even if not quite archaic … If the show had any star it was actually the hats, an amazing assemblage of feathered cloches that looked a good deal more revolutionary than the clothes." [Fashion Wire Daily]
• "Nubby tweeds, a pleathary jackets, and square-toed Mary Janes made this fashion statement feel a little anti-, but it's only going to seem so for those unable to suss out Jacobs' wicked sense of humor." [Fashion Week Daily]
See the Full Fall 2012 Louis Vuitton Collection.
•  "[A] surprisingly conservative surprisingly conservative show … Pantsuits with stovepipe trousers, print shirts and '70s platform shoes and booties dominated the collection, with some patterns that recalled the Prada show." [NYT]
•  "[T]here were some fresh jacket ideas, like a mini cape attached to the shoulders or a belt dropped to the hips … But it is the return of androgynous dressing for a new generation that is going to make tongues wag and cash registers sing." [IHT]
•  "Will Miuccia's pantsuits generate excitement in Miu Miu fans? Tough to say; they love their dresses. Then again, the matching-print pantsuit is one of Fall's key trends." [Style.com]
•  "[The show had] nearly singular focus on weird and wild pantsuits … Unlikely appeal? Not given Prada's history of manipulating "ugly" in a wonderful way, and especially not when it came to accessories." [WWD]
•  "A modern psychedelica we can't wait to get our hands on … There were few dresses to speak of, but those that did appear were young, sassy and brilliant for a place in the limelight." [Vogue UK]
•  "[A] fashionable game changer … it was frequently enchanting, though much of its charm lay in the way the clothes will eventually distinguish the women who buy them … one of the most influential of all collections." [Fashion Wire Daily]
• "Miuccia's riff on this seventies mainstay incorporated a few different options, but suffice it to say all are loud … this Fall, her statement was essentially singular." [Fashion Week Daily]

See the Full Fall 2012 Miu Miu Collection.
•  "It was not an especially moving sendoff … His last collection reflected the tendency [to overthink the sexy bits] … He offered sharp, seductive tailoring (his strong suit), but got waylaid in too many chain dresses and lily-is-for-lust motifs." [NYT]
•  "[A] powerful, hard-edge dominatrix fashion fantasy … Backless dresses in a chain mail made of metal and rubber were the ultimate expression of Pilati's hypersexualized vision … There is something inevitably glamorous about the look." [Style.com]
•  "The collection felt less high-drama punctuation mark than logical, if imperfect, progression…Whatever one thought of his work for Yves Saint Laurent, and it sometimes seemed heavy-handed, the brand benefited from Pilati's tenure." [WWD]
•  "Tailoring was key — it was elegant and modern…[J]ust as things were threatening to venture too far from the YSL roots, there appeared a calla lily motif. It neatly brought romance back into the equation." [Vogue UK]
•  "[A] finely polished, artfully judged tuxedo-based collection … Pilati's finest moment was a series of devilishly draped chain mail dresses, the epitome of the tough chic which has characterized his tenure at YSL." [Fashion Wire Daily]