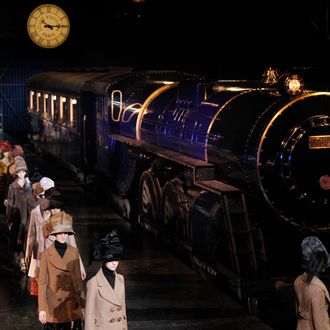 Models present creations by US fashion designer Marc Jacobs during the Louis Vuitton Fall/Winter 2012-2013 ready-to-wear collection show, on March 7, 2012 in Paris.
Photo: Francois Guillot/AFP/Getty Images
Model Kel Markey describes this season's Louis Vuitton show in a new interview with WWD: "[It] blew me away. I heard the train cost $8 million … And it was so beautiful inside. You think they'd do bare-bones since only us models would see it, but it was really nice upholstery and luggage racks and all this beautiful wood paneling. I guess when Marc does things, he does them perfectly." When asked by the fashion newspaper, Louis Vuitton declined to comment on the train's reported cost, probably because it's embarrassing when your $8 million train can't run on time.