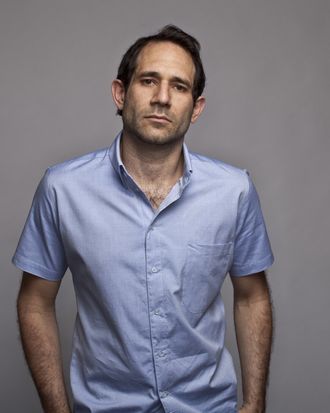 Dov Charney.
Photo: Johannes Kroemer/2009 Johannes Kroemer
Dov Charney signed a new three-year employment agreement with American Apparel, Inc., which gives him a minimum base salary of $800K — not including a number of incentive bonuses if the company meets certain financial "goals" like getting further out of debt. Speaking of, the retailer still owes lots of money to various people, although it's been doing its best to pay it back on time: A few weeks ago, the retailer received $80 million in new financing from the George Soros–backed investment fund Crystal Financing LLC, which allowed the company to pay back an earlier $50 million loan from Bank of America.
Charney's major challenges for the next year as chairman and CEO of American Apparel include meeting an EBITDA (earnings before interest, taxes, depreciation, and amortization) target of $32.3 million as well as refinancing its $116 million debt to Lion Capital, which saved the company from bankruptcy in the nick of time back in 2009 (at a whopping 18 percent interest rate per year). Fittingly, American Apparel's new lingerie ad features a model leaning sexily against a rock — presumably with a hard place nearby.