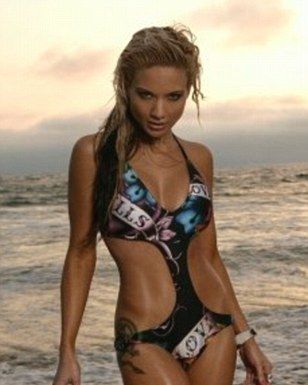 Simone Farrow, modeling for Ed Hardy under the name Simone Starr.
Australian police recently re-arrested ex-Penthouse and swimsuit model Simone Farrow in Queensland, the apparent culmination of a nearly three-year-long case undertaken by both American and Australian drug agencies. Farrow, using her own name, her "stage name" Simone Starr (under which she fronted Ed Hardy bikini campaigns) and a total of eighteen other aliases, is alleged to have run a global drug ring out of her Hollywood apartment — trafficking methamphetamine as bath salts. She'd skipped bail, set at $150,000, in the U.S. after charges were brought, and fled down under, where police found her at "a cheap Gold Coast hotel." In other words, likely not even the sort of venue that would provide actual bath salts as part of the complimentary toiletries offered en-suite.
Denying the charges against her, Farrow said she'd only skipped bail "because someone was trying to murder [her]." She referenced relationships with "numerous underworld figures or whatever you want to call them," who are said to be threatened by her position. Police and drug crime–focused federal agents refute her side of the story. A former special agent to ABC News explained:
"[Drug dealing] is not uncommon in the modeling and entertainment industry… If your skill set doesn't take you any place else, where's it going to take you? A quick buck would be distributing methamphetamine. It tells me that she was not that sophisticated, and she may be desperate for money."
Other evidence of unsophisticated behavior: why yes, Ed Hardy campaigns.