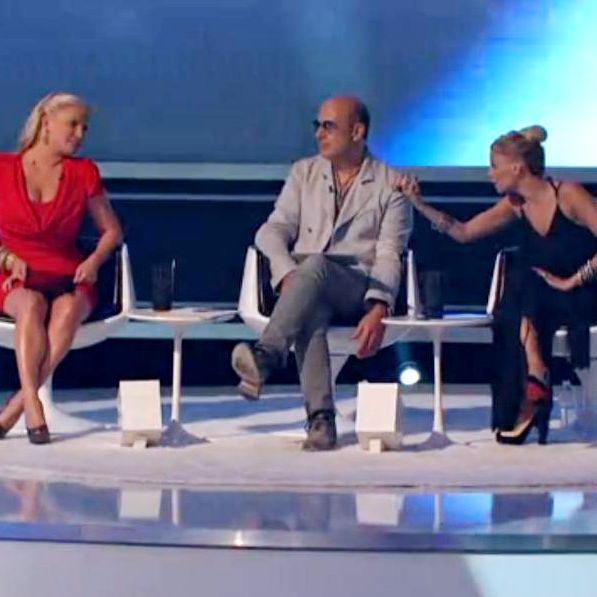 Nicole Richie tells her fellow mentors one contestant's pants looked like they were grabbing their models' vaginas. Inappropriate behavior on both counts, really.
Photo: NBC
NBC's new fashion-themed reality TV show, Fashion Star, premiered last night, and it wasn't great. More than that, it was beyond confusing in both how it works and in overall direction.  The show's setup sees a cast of fourteen designers — who have been previously aided by celebrity mentors back in their studios — presenting looks to a panel of buyers each week. After the runway show, the mentors comment, the buyers bid (or not), and then someone gets eliminated at the very end. As crotchety fashion industry folk who refuse to suspend disbelief, we saw flaws in every step of the process.
1. The designers
Are we even supposed to care about the show's talent? It's always hard to introduce a well-rounded cast in one episode, but we've really only met "classic character" Oscar (who'll become a malevolent little troll in time, because every show has one), two Aussie villains — one of whom already got the boot, and a bunch of other near-nameless contestants defined only by their sob stories. Tenuous sob stories, at that.
In the 90 minutes of TV-time last night, the premiere didn't even manage to fit in all fourteen designers' presentations. Three whose looks didn't get bought were relegated to a meager late-in-the-program montage. The show champions itself as a big break for all its competitors, so this seems unfair — particularly given the long opening spent showcasing host Elle Macpherson's lingerie collection. She's already famous!
2. The workroom
Well, it would be nice to see more of the design process — to better balance out all the frippery and theatrics. Fashion Star has to differentiate itself from Runway and the like, and perhaps less time in the workroom helps to do so. But it's at the cost of viewers learning more about the designers (see above) and their aesthetic. Oh, and also about the clothes they're supposed to be buying.
3. The mentors
As the show's much-touted celebrity mentors, Jessica Simpson, John Varvatos, and Nicole Richie are in an awkward position. (And not just because their chairs look really uncomfortable.) They're big names; NBC surely wants them front-and-center as much as possible — even if Varvatos looks beyond bored behind his shades. This means they've got to be there while the clothes walk the runway, sure, but their collective expertise would seem far more relevant in the workroom environment with the designers. Snarky feedback on designs they'd supposedly offered input on already reflects poorly upon them. You'd never see it from Tim Gunn, that's for sure:
And their commentary clearly makes no impact on the buyers  — while Jessica just about offered to strip down and change into one of Mad Hatter Oscar's gaudy mini-dresses straight off the runway, all three stores passed on his work.
4. The runway shows themselves (see video below for some particularly crazy moments)
These catwalks are what Fashion Star is all about, for the buyers and for viewers. So why arbitrarily make two designers go in the same segment, and then muddle things further with all sorts of crazy distractions? From motorcycles to writhing backup dancers and other things towards the end of the show that may have been hallucinations, all the clothes on display had to fight for any attention, and in many cases, they lost out.
5. The buyers
It's out of the question that a leading retailer's head buyer would commit to offers in excess of $50,000 for clothes they'd only seen fleetingly on a carnival-esque catwalk. Stop lying to us TV, damnit. There's no time for pattern analysis, an accurate assessment of the garment's full silhouette or hanger appeal — it's hard to even tell what any given piece is made from. (This might explain why some of the pieces bought last night already look different in their listings online; Sarah Parrott's cut-out dress not even being produced in leather, for example.) Buyers do a serious job, and reducing their role on the show to that of the button pushing villains on their over-decorated pedestal sells them even shorter than the designers themselves.
6. The laborious elimination process
Okay, this is reality TV, everybody must get emotional. But the "you're not our fashion star" catchphrase needs some work.
In the end though, perhaps all the frantic confusion is deliberate. The overall effect of the tears, high-energy music, and CGI glitter bombs is so nonsensical, exhausting even, that a little bout of post-show e-commerce offers a break and some welcome closure, like a quick smoke break after some really bad sex. The thing is, do people give really bad sex a second or third try?