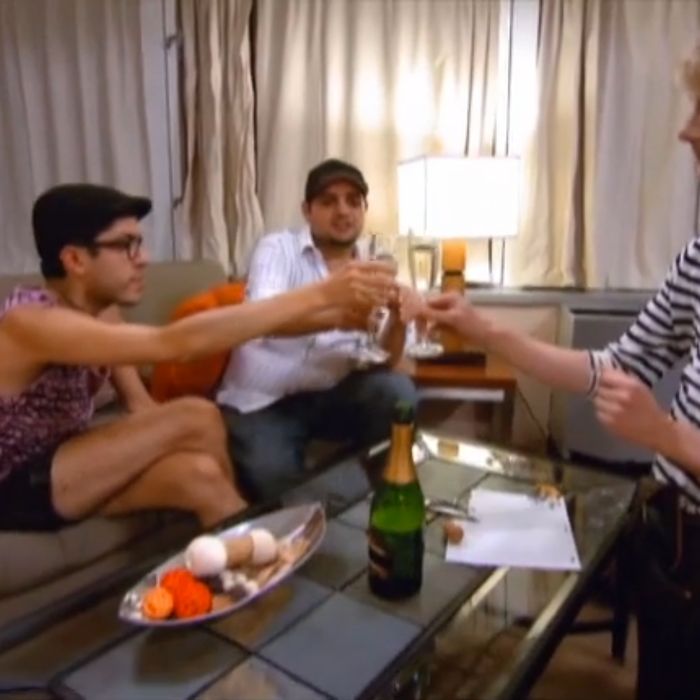 After getting over the shock of seeing Austin without his jaunty mustache, Angela explains their last and most stressful challenge. The three finalists must create a mini-collection of five full runway-ready looks in only four days. Wow. Judges Georgina and Isaac join her for the announcement — likely so there'd be even numbers should the designers, so incensed by the ridiculous task, revolt and start brawling. Even with her stilettos as a weapon, poor Angela wouldn't stand a chance on her own; you just know Mondo and Michael both fight dirty. And, ok, Austin would too — think a swift kick to the crotch followed by a lightly-scented lace handkerchief to wipe away your tears.
The finalists visit Marie Claire's offices and, just as a reminder of her importance, Joanna Coles makes them wait a little before joining them for the first of many pep-talks. (Well, she is a very busy lady.) Her sunshine-colored Victoria Beckham dress is killer, but, dare we say it, upstaged slightly by executive assistant Sergio Kletnoy's neon lemon high-tops in the yellow clothing stakes. Let's hope they always color coordinate, even if it's just a little. Aside from the fantastic views that the high floors on the Hearst building offer, the finalists' conversation with Joanna is an important reminder of how big a deal a guest-editor spot on the magazine's masthead could be.
With a $3000 budget at Mood, Michael and Austin shop with giddy purpose. Mondo, well, he doesn't. He stomps around under a black cloud, giving the producers a great idea for a challenge next season by saying he feels like he's picking fabrics blindfolded. With the finalists' workroom transformed into three little studios upon their return, he makes like his everyone's inner teenager and shuts himself in his workroom to brood and write long, dark poems about tunnels — the ones where everything's a metaphor but nothing rhymes. He doesn't even pretend to be happy upon judge Georgina's arrival for the next little pep-talk, then spends the remainder of work lounging dramatically on a couch. He even bails on dessert at the designers' post-work meal! Meanwhile Michael and Austin, working on an African safari-themed resort line and a "whimsical rockstar meets Hasidic gentleman" collection respectively, get lots done and make it through all of dinner.
By the next morning though, Mondo manages to temper his melancholia somewhat — channeling it into a therapy-inspired collection that sees him making Rorschach blots and layering circular prints to look like acupuncture charts. There's some squabbling over models, some squabbling over their shows' music, and some pleasantries from Isaac during his pep-talk, but by far the most interesting — and terrifying — occurrence from day two is when Michael cracks his neck like he's prepping to break it. That noise! But any method of releasing tension is fair game, because Angela pops up next with a gratuitously nasty twist. It really wouldn't be a Runway finale without some mindfuckery.
In exchange for picking an assistant for a day from the pool of eliminated contestants, the finalists have to create a sixth look using only leftover fabric from their previous looks this season. Wisely, none of the final three pick assistants eliminated too recently — they're likely still too tired and embittered; Mondo plumps for Mila, Austin picks "Princess Antoinetta," and Michael chooses April, whose hair is looking even better with its sassy senior violet rinse.
Their 24 hours of assistance flies by in a montage of pattern cutting and flamboyance — most of which comes from Anthony, and then Joanna Coles is back for yet more pep talks. (Four in this episode alone.) Whether she's trying to psych the finalists up or out at the producers' bidding isn't clear, but it certainly works in needling home to the designers that their big moment is closing in fast: They're all so excited, they're all so scared. And we are too, we think. Except their runways won't air until next week, of course, so we fade out on a cutesy little Champagne toast and wait till next Thursday for the show to really begin … and end. Predictions, please!