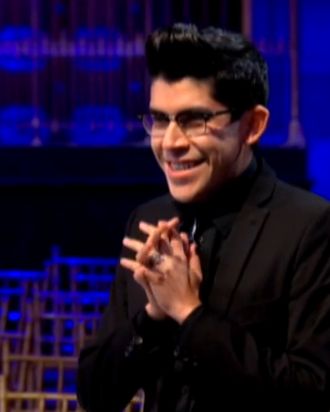 Mondo Guerra
Photo: Lifetime
The last time we fêted the finale of a Project Runway season, we noted that we had our Team Mondo shirts all pressed and ready to go in preparation for the All Stars episodes. Apparently, so did the judges because Mondo finally won the war. Pull up your Doritos and join us as we talk through last night's finale.
Heather: It is always so exciting when Project Runway finishes and I don't feel like the judges have been inhaling mind-altering fumes pumped through the A/C.
Jessica: This was a very satisfying finale, and I'm not just saying that because we accurately predicted the winner. I think they were right on target this time. But the moment I knew Mondo had it in the bag was when Joanna Coles lint-rolled him.
Heather: The lint-roller is her light saber. When she brought it out, we knew he was a Jedi.
Jessica: I agree with everyone's notes about his buttons being a little off and whatnot, but that was actually something else that signaled to me that Mondo had it — the judges were basically giving him the kind of constructive yet minor notes that you give to a person who essentially has his act together. "Your pockets are too big" is what you tell someone when they're really close to having it completely right.
Heather: And judging was surprisingly coherent, too. Not that the usual crew aren't, but I often feel like their comments are being heavily edited into something that ultimately is kind of useless as a critique, just so it doesn't tip their hand as to who the winner is. This deliberation actually made sense to me, and I liked Georgina and Tommy Hilfiger really getting into it over how much to weigh ideas vs. practicality. It felt like an actual discussion.
Jessica: Georgina Chapman came out of this looking smart. And we knew Isaac would be funny. Maybe Michael Kors didn't show up to the finale because he was worried he'd have to throw down for his job — all joking aside, I can see why Heidi stayed home, but it would have been nice to see Kors and his spray tan.
Heather: Maybe he was worried it would clash with the venue.
Jessica: Maybe he thought he would get too emotional. Which I did. Poor Michael Costello.  I totally got sniffly at the very end when he and Mondo were hugging and telling each other how much they loved each other.
Heather: Michael was just over-matched. And I think he came out of this in the best shape he could have hoped — which I mean as a compliment. His collection was, to me, the biggest surprise after having seen only tiny glimpses of their garments last week. I was surprised in a good way that it wasn't universally flowy.

Jessica: At least he gets to go to Paris. Although there is something inadvertently amusing about Lindvall basically telling the losers, "You're out… AND LEAVE THE COUNTRY WHILE YOU'RE AT IT."
Heather: For … a weekend. It might end up being more of a pain in the ass than a prize. It's like they rewarded them with jet lag.
Jessica: The other hilarious moment to me was, again, when Austin described his line. I'm not sure how many Brooklyn Hasidic dandies are actually hanging out with eighteenth-century vampires, but I'd be happy to read that novel when it comes out.
Heather: I know! I saw that collection and was like, "Perhaps I just don't know enough eighteenth-century vampires who now reside in Williamsburg and borrow clothes from their Hasidic dandy friends." The clothes melded about as well as any of the words in that sentence.
Jessica: I thought his wedding dress was fantastic, but I agreed with the judges that Austin's collection as a whole felt all over the place.
Heather: The lacquered lace dress was good, too. I agreed with Georgina that the ball gown didn't flatter, and in all, it did seem like Austin was trying to show them a range of what he could do as a designer, rather than a collection of what he would or should do. He picked variety over cohesion.
Jessica: He just bit off more than he could chew, although he acquitted himself nicely from a technical standpoint. In fact, this might be one of the most polished final three we've seen — as it should be, for an All Stars season.
Heather: What I love is that for all of everyone's moaning and wailing about how the latter seasons aren't as good, the final three of the All Stars season contained only one Bravo-cast designer, against two Lifetimers. I hope the networks had a wager going — like how rival mayors bet on the Super Bowl. Since Lifetime wins they get to unload The Client List onto Andy Cohen, and if he'd won Lifetime would've gotten … oh, I don't know, The Real Housewives of Someplace Lesser.
Jessica: P.S.: Did you notice that it seemed like the rest of the judges kind of disregarded anything Angela Lindvall said?
Heather: Wouldn't you? No offense to her, but I feel like she's the weak link when it comes to believable cred — from a regular viewer's perspective, certainly. Although I did feel for her, being stuck in that tired Stella McCartney that everyone and their aunt has since worn and none of them very well.
Jessica: She is completely the weak link. This was the first time, though, where the editing made it seem that Georgina and Isaac really don't pay any attention to her. And on a personal level, unlike Ms. Lindvall, I loved Mondo's lamé gown.
Heather: She is lamé without the accent mark. I loved it too. I also need to note, by the way, that my OTHER favorite awkward part of the episode was when Angela gave Mondo that really stiff congratulatory hug, and then they cut to her just standing there with her arm on her shoulder and held the shot long enough to see her look off-camera and give someone a panicked "Um, I hugged him, what now?" shrug.
Jessica: Ha! Maybe the editors secretly hate her, and now that the show is wrapped, they can lash out in subtle ways. Listen, she wasn't terrible, but she is no Heidi Klum — a sentence I never thought I'd write. Whereas Joanna Coles is tremendous, and I love her — and I was VERY resistant to losing Tim Gunn for this season.
Heather: I wish they could co-exist. But the resulting vortex of awesome might implode Earth. Seriously, though, I actually think she was the big winner. So smart, so supportive, so savvy, and so very concerned about how people can wear bras with things. My kind of lady.
Jessica: And the actual winner deserved it, and the other two will land on their feet, so the whole thing was very enjoyable.
Heather: I do find it interesting that the big knock on Mondo is that he's almost too good at Project Runway. In the sense that both seasons, the judges have loved what he's done during the challenges so much that they always comment that his collection isn't as strong because the bar is too high.
Jessica: No wonder he was stressing out so much in the previous episode. That's a lot to live up to. I'm just glad that justice was finally done after his unjust loss to Gretchen. Somewhere, Jessica Simpson is happy.
Heather: Right? Who would've thought she was the wisest of them all?
Jessica: Make a note, because I'm pretty sure that will never happen again. I've seen Fashion Star.
(For more from the Fug Girls, visit GoFugYourself.com.)