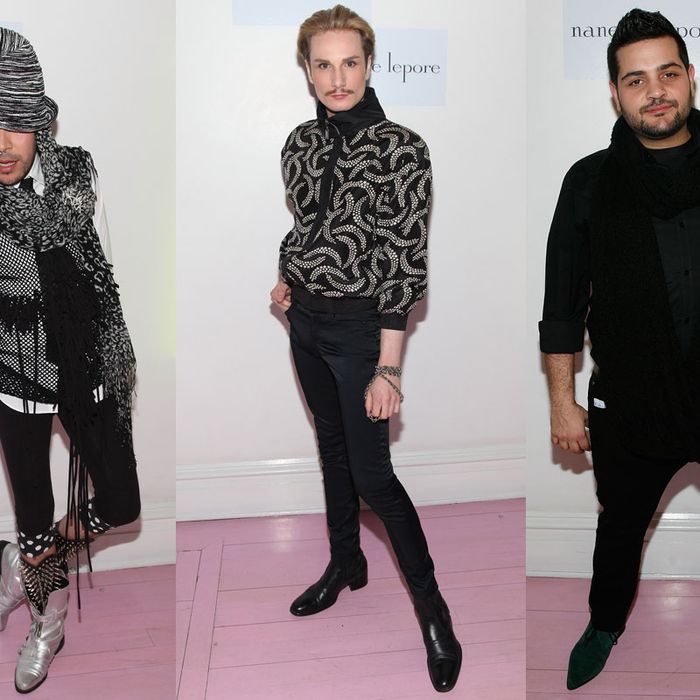 The contenders from left: Mondo Guerra, Austin Scarlett, and Michael Costello
Project Runway All Stars has taught us so much: that Joanna Coles is awesome and wise, that Georgina Chapman gives a lot of intelligent advice that she might be well-served to take herself, and that almost everyone still thinks Kenley is annoying. Thanks to last week's excellent penultimate episode, the show also proved it doesn't need to ship Tim Gunn back to everyone's hometown to meet their families and stare at their walls. Sometimes all you need for a compelling story is to lock three designers in a room with their thoughts and a deadline. However, as much as we've learned, we're still going into this finale with considerably less information than usual. By this point in a standard Runway season, everyone and their mother has already peeked at photographs from the final collections shown at Fashion Week — but this time, Mondo, Austin, and Michael presented their collections to the judges and assorted luminaries in a closed session, which means we're going into our traditional prognostication almost totally blind. In other words: If we completely whiff this, we have an excellent excuse.
Mondo Guerra: 2-1. Based on the visual snippets we got in the most recent episode, Mondo's collection seems a little friendlier than the one he showed on his original season (which was good but not his best). The Rorschach motif he designed on a whim is great, and his lively taste in patterns appears to be on display. In general, Mondo simply seems the most adaptable and fashion-forward of the finalists — able to stretch himself without losing himself and walk the line between having a signature and being in a rut. And we suspect the conception date of the All Stars season was also the day Mondo's hugely unpopular loss to Gretchen Jones aired, and the revolted fans … well, revolted. We're not saying this was rigged — Mondo's place in the finals feels well-earned — but you know those producers heaved a sigh of relief when he fought his way back into the finals and began realigning the scales of justice.
Austin Scarlett: 3-1. We knew even before he started sketching that Austin was the most likely to give us big visual drama, and we suspect that will bear out — bless him for announcing he'll close with a wedding dress, just the way we like it. But what we embrace about him is also what most concerns us: Can Austin Scarlett push the Austin Scarlett Thing beyond his sweeping ball gown aesthetic? After all, the funniest moment of the most recent episode was when he described his inspiration to Anthony in terms so highfalutin' and arcane they make Tolstoy look like Dr. Seuss, and a pair of pink froofy pantaloons he showed to Joanna Coles have us very concerned that he's designing for someone who works as the footman of a liveried carriage. Regardless, Austin is a pro — with past success via eye-popping theatrics (like his glow-light dress) under this belt — and Mondo appeared to be losing his mind last week. If the front-runner cracks under pressure, Austin may emerge victorious, regardless of how many seventeenth-century undergarments he sends down the runway.
Michael Costello: 10-1. We are delighted that Michael, who had a rough interpersonal go of it on his own season, has thrived this time (and stayed so close to Mondo). And we have no doubt that Michael is technically capable; it's been noted time and again that he's an excellent draper, and he's got at least a handful of wins under his belt. But his collection looks a bit same-y and resort-y to take the win, especially after Anya's version of that just did. In fact, in a way Michael is the Gretchen of this season, without the personality conflicts: He produces wearable, hanger-friendly, buyer-friendly clothes that just aren't quite as innovative or forward-thinking as what his competitors can do. And while that might add up to commercial success, it may not have all the right ingredients — or enough oomph — for an All Stars victory. Social redemption will have to do. (For more from the Fug Girls, visit GoFugYourself.com)