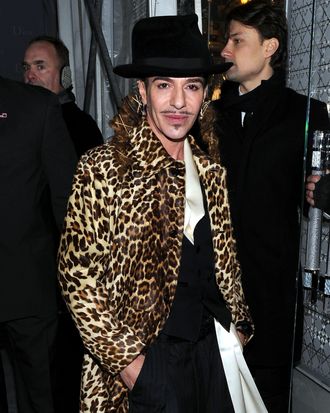 John Galliano.
Photo: Jason Kempin/Getty Images
We've been so distracted by the driver's seat at Dior that we nearly forgot about Galliano's suspended career — but not about his beanie and twenties-style mustache. Buried in a longer story on Derek Lam leaving his post as Tod's creative director, comes the following teaser:
Lam's departure coincides with continued speculation that John Galliano was in talks with the Italian firm to either do a Tod's capsule collection or revamp its Schiaparelli brand. However, [chairman Diego] Della Valle firmly dismissed the rumors.
Dang, Della Valle. Schiaparelli has been without a head designer since its acquisition in 2007 and we're sort of sweet on the idea of Galliano at the helm. In any case, as Fashionista points out, the "Elsa Schiaparelli and Miuccia Prada: On Fashion" Costume Institute exhibit is scheduled for May at the Met, setting the perfect scene for a big job announcement. Or, you know, this could drag on for another five years.