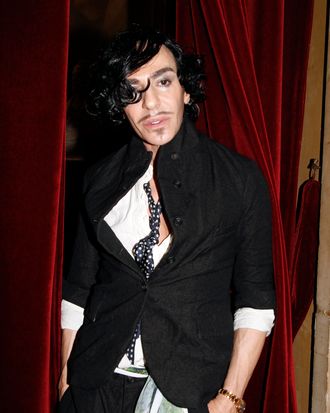 Galliano, in his earlier non-blond days.
Photo: Eric Ryan/2010 Eric Ryan
On Saturday night, John Galliano was seen walking out of a café on Rue de Turenne in Paris's Marais district, the same area where he had his fateful meltdown a year ago (he reportedly lives nearby). According to WWD, he "wore a loose beanie over his trademark long hair, which was left hanging and dyed a lighter shade with blonde highlights. His mustache was trimmed in Twenties, pencil-thin style." (So, sort of like this.) In other words, he's hardly going for an under-the-radar look. 
Related: 
John Galliano Emerges in London
Look at John Galliano Fluffing Kate Moss's Wedding Veil