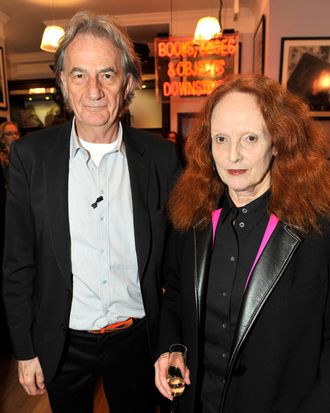 Paul Smith and Grace Coddington.
Photo: Leandro Justen/? Patrick McMullan
Sure, endless filing, hauling packages cross-town, and working late hours (often unpaid) is all part of a fashion intern's unspoken job description, but complaints, Grace Coddington says, aren't warranted. At a special party celebrating Paul Smith's first U.S. store's 25th birthday last night, Vogue's legendary creative director noted, "They're there to learn and observe. I think there are a lot of interns that feel very entitled. They think we owe them something. Good ones come through though. You really notice them."
Paul Smith recalled one particular intern, Sophie Hicks, who worked under Coddington at British Vogue. Hicks is now a famous architect who's designed several of Smith's stores. "She was very positive — just got on with it. She had the attitude; a clear way of thinking. She was a character. She'd go to work in pajamas." Coddington admitted, "I'm sure they are somewhat abused and we do send them out to get an awful lot of cups of coffee, but they're learning all the time." "That's part of the process," Smith said.