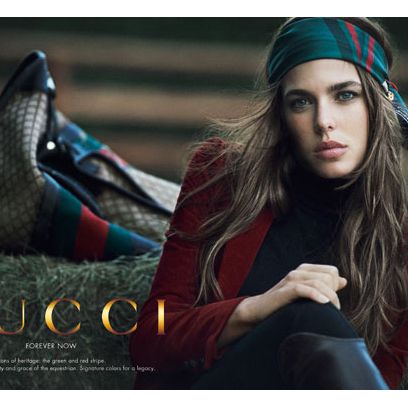 Gucci's spring ads.
Photo: Peter Lindbergh/Gucci
Back in 2009, Gucci sued Guess for trademark infringement, complaining that Guess knocked off their "G" logos and other Gucci-esque designs. The case finally made it to court yesterday, appearing before U.S. District Judge Shira Scheindlin in Manhattan. Here's Gucci's opening argument, according to Bloomberg News:
"It's about a massive, complicated scheme to knock off Gucci's best-known and iconic designs," Louis Ederer, Gucci's lawyer, told the judge today. The company claims that $221 million worth of Guess products infringed Gucci designs.
Meanwhile, Guess's lawyers made their defense:
Guess said in court papers that Gucci can't claim infringement because it "sat on its rights" for at least seven years before suing. Guess also said Gucci's surveys failed to prove that consumers would be misled by the designs.

Daniel Petrocelli, a lawyer for Guess, said in his opening remarks that of 1,495 Guess products Gucci claimed were infringing, 99 percent "could never be confused with Gucci."

"The numbers don't add up," Petrocelli said. "If there was a scheme, it failed miserably."
Chances are this will settle out of court, just like most fashion lawsuits. In other news, isn't it humbling to realize you work in an industry where companies spend thousands of dollars arguing over whether their letter "G"s look alike?