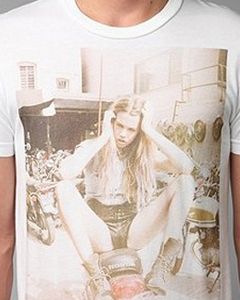 The controversial tee in question.
Hailey Clauson may soon have her day in court. The model's parents filed a $28 million lawsuit against Urban Outfitters last year, alleging the retailer used "blatantly salacious" images of Hailey on a T-shirt without their permission. Urban received the shirts from Blood Is the New Black, a smaller company also named as a defendant; Blood Is the New Black received the images in turn from the shoot in question's photographer, Jason Lee Parry. The lawsuit claims that Parry didn't have the correct rights to license the shot, and furthermore that he'd agreed not to release the provocative image of the then-15-year-old.
With its co-defendants, Urban requested the case's dismissal last fall — arguing the Clausons' lawsuit was "procedurally defective." A New York federal judge disagreed, however, and ruled today that the case will proceed on numerous grounds, including fair cause for action on Clauson's part to claim for false endorsement, false designation of origin, false representation "of plaintiff's modeling services," as well as violations of New York's civil-rights law (with regards to the unauthorized image usage) and common law libel. A court date has yet to be set.