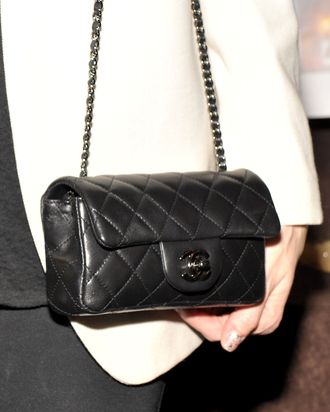 Photo: Marc Stamas/2012 Getty Images
2.55 toters everywhere — hold fast to your handbags and hear this harrowing tale: 32-year-old Dion Leung Wai-yin is seeking compensation from Lane Crawford in Hong Kong, claiming the department store essentially held her hostage for over an hour and a half after she stopped by to authenticate a Chanel bag she purchased there. Leung told the South China Morning Post, "I was locked in a VIP room, [an employee] served me hot chocolate and he started to chit-chat with me. When I asked him when were we going to discuss the bag, he tried to [talk] about his divorce, the size of his feet and where he came from." Someone get a hold of this surveillance tape!
According to Lane Crawford, Leung's bag was sourced via Manhattan vintage store What Goes Around Comes Around.* The company released the following statement:
"Lane Crawford prides itself on the integrity of its service, the authenticity of the merchandise it sells and the partners it works with … The customer returned the bag because it was damaged. Our Customer Service staff worked quickly to resolve the matter, and as is our policy, immediately issued a full refund for the damaged bag and apologized for any inconvenience caused."
Leung wants 50,000 Hong Kong dollars, or $6,441, and two additional Chanel handbags for the "depression" and "anxiety" caused by the entire situation, suggesting the purses don't come with a complimentary stash of Quaaludes, as we always guessed they might.
*This post has been updated to state that Leung's bag was sourced through WGACA.