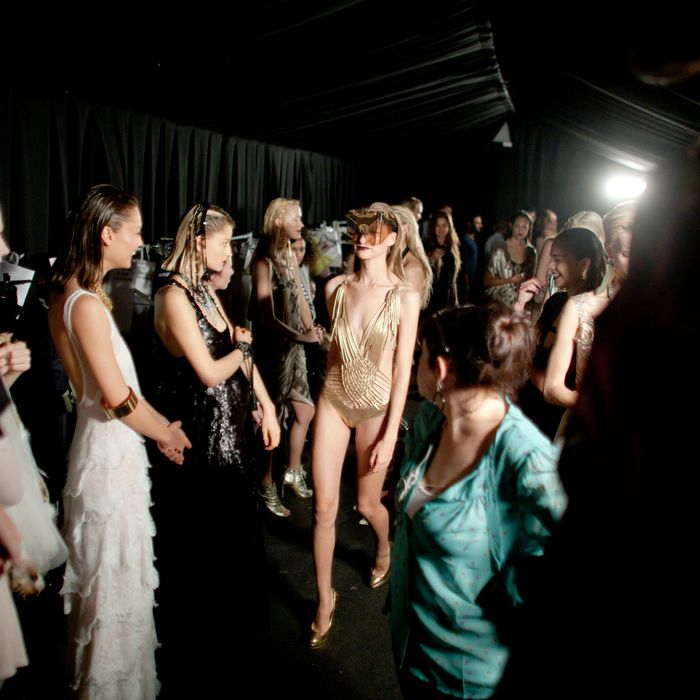 Models at Tel Aviv Fashion Week.
Photo: Uriel Sinai/Getty Images
Last night, Israel became the first country ever to pass legislation banning the use of "underweight" models in local ads and publications. The new law employs an interesting tactic: Models must prove that their Body Mass Index (BMI) is higher than the World Health Organization's indication of malnourishment (a BMI of 18.5) by producing an up-to-date medical report — no older than three months — at all shoots to be used in the Israeli market. Meanwhile, all Israeli publications and advertisements must have a clearly written notice when they alter images to make women and men appear thinner. The law won't apply to foreign publications that are sold in Israel.
Although some governments have taken steps to crack down on the use of inappropriate beauty standards (for example, the U.K.'s Advertising Standards Authority bans ads willy-nilly for showing models they deem too young or too Photoshopped), this is the first law with defined weight standards. Most other countries just rely on the industry to regulate itself — see the CFDA's model health guidelines, or Madrid Fashion Week's 2008 ban on models with a BMI below 18. Of course, it makes sense that a country with a relatively tiny fashion industry would try this first; it'll be interesting to see if other countries with more money at stake will follow suit. The Telegraph reports that there are only about 300 professional models in Israel and just a few who work abroad, so the regulations will hardly have a widespread impact.
The law comes just a few weeks after the London School of Economics published a groundbreaking study that concluded that governments should censor images of overly skinny models since people are overwhelmingly influenced by beauty standards depicted in advertising. However, there are critics: Some detractors have (correctly) pointed out that some perfectly well-nourished people fall naturally below the 18.5 BMI number. Reports the Telegraph:
Top Israeli model Adi Neumman said she wouldn't pass under the new rules, because her BMI was 18.3. Neumman said she ate well and exercised.

"Force actual tests. Make girls go to a doctor. Get a system to follow girls who are found to be puking," said Neumman.
Unfortunately, it'll be hard to measure the effects of the law, since so much of Israel's media comes from international sources that will remain unregulated. As of now, about 2 percent of Israeli girls between ages 14 and 18 have severe eating disorders (and goodness knows how many other ones with run-of-the mill disordered eating), which is about on par with other developed countries. Although this law may have its limitations, bravo to Israel's government for attempting to curb a tragic and deeply disturbing epidemic.
Related:
Study Backs Government Censorship of Overly Thin Models
The CFDA Releases Model Health Guidelines for Fashion Week