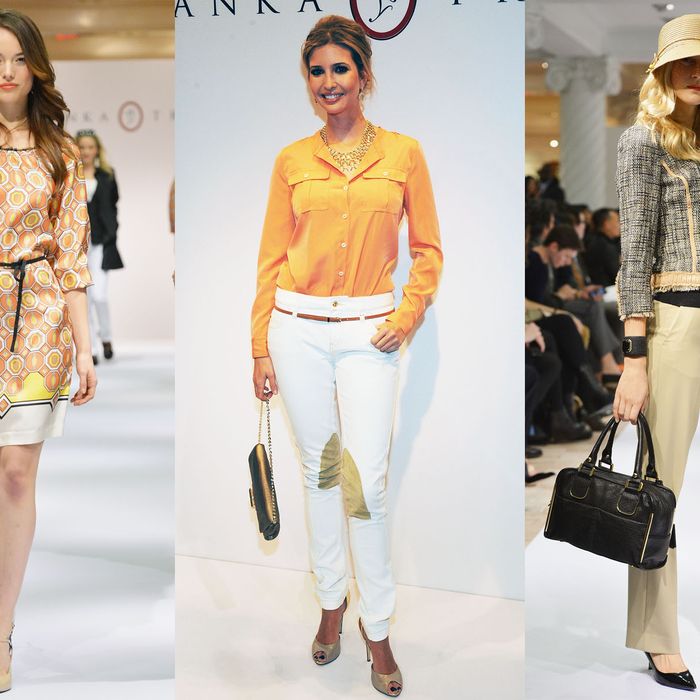 Ivanka Trump's spring looks.
Photo: Slaven Vlasic/Getty Images
Celebrity fashion shows can be highly amusing affairs. First off, no one looks jaded or bored or unhappy to be there, like they do at Fashion Week. In fact, people are overjoyed to be there. Some people are overjoyed even to crowd behind a rope and watch from the shoe section of Lord & Taylor, as many  did at Ivanka Trump's first-ever fashion show last night. 
Although celebrity fashion lines are typically sneered at by the fashion industry, far more people will buy Ivanka Trump's clothes than a high-end designer's. "Ivanka Trump is the most searched designer on our website," proclaimed Lord & Taylor president Bonnie Brooks, who made a short speech on the runway before the show began. Ivanka also took the microphone and thanked everyone for coming before she sat down in the front row near her father, husband, and mother. "Shouldn't she be backstage, like, fixing stuff?" wondered someone sitting near us. But of course, normal fashion show etiquette didn't really apply here.
The collection was, well, full of clothes that middle-American working women probably want to wear. There were lots of brightly colored shirtdresses, cardigans, and Pucci-esque silk shifts for the office, plus white jeans, tan shorts, and sundresses for the weekend. All the models had their hair in loose barrel curls and carried white purses from Trump's handbag line. For the most part, the audience seemed to love it. Two women sitting behind us kept up a running commentary throughout the show: "Ooh, she looks cute." "That model is sassy! Just loves the cameras, you can tell." "She needs something to cover her nipples!"
When the show concluded, Ivanka jumped to her feet and gave herself a standing ovation before she was swarmed by fans. And no, this was not your average postshow crowd of civilized well-wishers; these were straight-up crazed fanatics. "Are those girls actually crying?" observed one bystander, pointing at two giddy women who were tearfully waving their camera phones. "I didn't realize she had, like, fangirls." Donald Trump squeezed past us in the crowd, but no one even glanced at him.
When we did finally get to chat with Ivanka, she deftly avoided any questions about how she was involved in the design process. Did she make inspiration boards? Pick out fabrics? Replicate items from her own closet? "A little bit of everything," she said sweetly, looking statuesque — and slimmer than ever — in white riding pants, a skinny belt, and an orange button-down shirt. "My inspiration is really the woman I'm designing for, which is a confident, powerful working woman. She sees her job as important, but she also sees her weekends as important as her evenings. So I'm creating a true lifestyle brand for that person." And gauging by all the Lord & Taylor customers gawking from behind the ropes, that person is definitely buying.