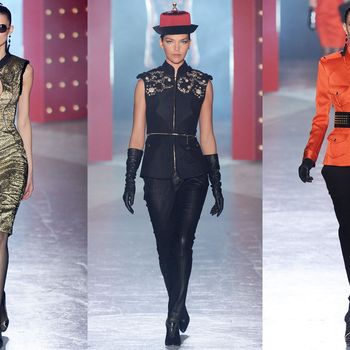 Jason Wu's China-inspired fall 2012 collection.
Jason Wu has grown accustomed to being lumped in with the gaggle of young, successful Asian-American designers in New York: "This movement's been going on for a little bit, but people still ask me, 'There are so many Asian-born designers right now in New York. Why do you think that is?'" he tells Vancouver-based Montecristo magazine. One thing he has noticed about his Asian-American peers (presumably besides the fact that they probably have no more in common than many designers, aside from having ancestors from the same continent) is that their work often doesn't reflect their Asian roots — unlike that of several non-Asian designers, like Marc Jacobs and Ralph Lauren, who jump-started last year's "glamorization of Asia" trend. Wu, who was born in Taiwan, thus decided to break ground with his Chinese-influenced fall 2012 show. He explains:
I suppose this hasn't really been done before—an Asian designer tapping into the Asian side. Usually, culturally, we stay away from it … I feel like I'm at a place where I'm maturing not just as a designer, but as a person, to embark on inspirations that hit close to home.
But instead of just slapping together some Chinoiserie and obi-style belts, Wu says he wanted his China collection to be a bit tongue-in-cheek.
I almost wanted to poke fun at it a little bit by interpreting it through stereotypes … but also by incorporating all of that in a way that is elegant and powerful at the same time.
Jason Wu can do whatever he wants, of course, but it's a bit weird to expect Asian-American designers to hop on the Asian inspiration wagon just because their grandparents came from, say, Shanghai. In other news, Chinese-American designer Phillip Lim did a Cheongsam-inspired collection — presented on the Great Wall, no less! — back in 2010, but who's really keeping track.
Related: From Rice-Paddy Hats to Rickshaws: Fashion's Misguided Glamorizing of Asia